If You Have A Picky Eater, You Need The 'Food Cubby' Immediately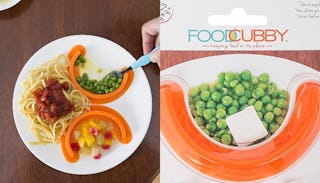 Image via Amazon
The Food Cubby and other fun products will make life with your picky eater a little less ridiculous
Most parents deal with a picky eater at some point. Whether you have a kiddo with a, um, discerning palate from the start or they hit a toddler phase of refusing everything but buttered noodles, the majority of moms and dads struggle with getting a little one to eat. Fear not — it's 2019 and we have a number of products that might not make your child enjoy green beans, but they can certainly go a long way toward making your life catering to a fussy eater slightly easier.
A food-safe silicone "food cubby" that turns any plate into a picky eater pleaser? Yes please, this is totally genius.
Of course, there are already plates that divide food if you're into that sort of thing. These WeeSprout silicone numbers come in bright colors sure to make a choosy foodie smile.
Need to travel with your highly selective eater but don't want to juggle a bunch of different tiny containers to keep it all from touching? Welcome to your new BFF, these sealable divided plates. They're microwave-safe, so when you go to dinner at your mother-in-law's and have to heat up chicken nuggets and fries (while she glares at you and says you should just make your preschooler eat her beef stroganoff or go hungry) it will be easy peasy. Heating up the food, not dealing with your mother-in-law, that is.
OK, so you've exhausted all reasonable options and are now ready to turn your kid's food into art if that means he will eat it. Enter these adorable molds that will morph eggs, pancakes, and sandwiches into fun shapes your picky eater might actually consider taking a bite out of.
Speaking of making food fun, check out these super cute Bento food picks. They're technically meant to decorate food in a Bento box, but nothing's stopping you from handing a few to your child and telling them they can eat one niblet of corn at a time using these animal forks. Gotta get creative here, folks.
We're just going to stay on the "food is fun" train for a bit, because there's not a whole lot that can be done to get picky little ones eagerly eating. How about this tray that looks like a game board? Put a few bites in each compartment and let your child finish the "race" to end. You can feel free to put a little candy treat or whatever else might motivate your kid to eat a vegetable in the final compartment.
Continuing in the spirit of creative presentation, behold: a placemat that's also a cute little crab. You can fill each section with whatever you please, and hopefully, it might entice your kiddo to eat something, anything, for the love of god.
There's always the classic construction utensil set. We can't provide the authentic truck and digger noises — that's all on you.
If you have a few extra minutes and are that desperate to get some nutrients into your little one, you can turn fruit and sandwiches into fun, 3D shapes with these Fun Bites food cutters. They come in heart, triangle, and cube shapes, so you can change it up.
If you want some artsy appeal but don't have time to go all out, this Mr. Food Face plate is perfect. Feel free to get creative and give him pea earrings or corn teeth. Your imagination — and your kid's picky palate — are the only limits.
Chances are, only time will change your fussy eater's habits, but for now, these products should help get a few bites in at dinner without the usual battle.
We may earn fees from purchases made via links on this page and affiliated sites. All opinions are our own.
This article was originally published on