15 Gifts for Picky Preschoolers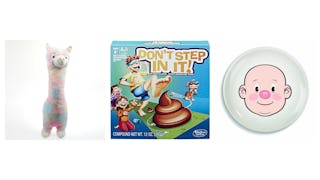 Images via Walmart
Preschoolers are neat, aren't they? We never know when they'll "forget to make it in time" to the potty. They refuse to nap and then turn into raging banshees at Grandma's house. And sometimes they can be a little opinionated about what toys they'll play with and what plate they're willing to eat their food off of. So, here are some home-run gifts for your picky preschooler. We're pretty sure they'll love these for at least a solid five minutes before asking for a snack.
With play dough, stickers, and craft supplies (among other stuff too), a preschool box like this one is sure to keep any kid entertained for a while. They'll make a mess though, because that's what they do.
Even for a squirrelly kid who can't sit through a board game or movie to save his life, this 100-piece magnetic tiles kit from Best Choice Products will keep that child entertained, we promise. With endless opportunities to put together and take apart creations, you might get 10 minutes of peace if this toy is in your house.
Bath toys! Seriously, you cannot go wrong with bath toys for kids. This one from Boon PIPES is a set of suction-cupped plastic pipes kids can put together in various formations, stick to the wall, and pour water through. This one will be a fave for any preschooler.
A board game about poop. Need we say more?
Even our little kids want to get on the tech-train. And they love PJ Masks (into the night to save the day!) so this VTech learning watch that teaches about shapes and early math skills is sure to be a hit.
Kids are having a sleepover at Grandma's? (Yay!) Well, how about this super cute Paw Patrol sleeping bag, flashlight, and bonus hamper to help them get ready for their big night (and encourage them to stay longer tomorrow)?
Pretty sure we don't need an explanation for this one, as you can see for yourself the massive amount of cool mom points you'll score when you rock these Batman carseat covers in your minivan.
Hot Dots are great for preschoolers who aren't yet ready for the rigor of holding a pen and pencil for a long time. They come with a talking pen that teaches about letters, numbers, and sight words. And bonus! This one's from Pete the Cat, our kids' fave book series.
Spot it! is the perfect road trip game or something to throw in your bag to entertain your active preschooler at their older sibling's sporting events. It's easy to follow, and this one specifically teaches kids their letters and ties in a favorite Disney movie.
Preschoolers need to move, we all know that. This 3-wheeled scooter is the perfect outdoor toy (or indoors in your kitchen) for a little one with energy to burn.
Have a picky eater? We know how that goes. This hilarious plate by Fred & Friends lets your preschooler "make" the rest of Mr. Food Face with his food (and then hopefully eat it).
We know play-doh makes your head explode, especially when it's ground into the carpet, but kids love it. And play-doh that glows in the dark? Your kids will think it's a Christmas miracle.
We know your kids already have 832 stuffed animals, but do they have a stuffed llama? Make their Christmas morning with this 30″ rainbow stuffed llama that will kick all other boring stuffed animals to the curb.
Preschoolers plus clothes does not always equal fun. They resist getting dressed. They resist wearing what you pick out. But this Paw Patrol jogger set could be the difference maker for your busy mornings.
Imagine your preschooler tooling around in this 12 volt camouflage truck. They'll be the rulers of the cul-de-sac. Just be prepared for hoards of other small humans descending upon your house to have a turn.
That's our list, folks! If you're stumped as to what to buy the picky preschooler in your life, try out these choices. We promise your chances of going to the bathroom in peace will be significantly improved if they've got these items to distract them.
We are a participant in the Walmart.com Affiliate Program and may earn fees by linking to Walmart.com and affiliated sites.
This article was originally published on