This 'Monthly Budget' Pie Chart Is Going Viral -- Because It's Ridiculous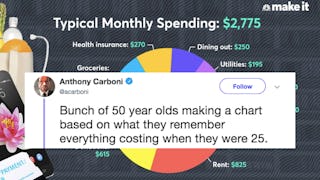 Image via Twitter/CNBC/Anthony Carboni
You will LOL at this ridiculously unrelatable 'monthly budget' of a 25-year-old
CNBC shared a rather, er, unbelievable pie chart showing a "typical monthly budget" of a 25-year-old who earns $100,000 a year, and instantly, the internet's collective mouths pursed into a teeny-tiny butthole. Yes, you read that correctly: a 25-year-old and $100,000 a year.
But it's how this $100K is spent that's a real head-scratcher.
RELATED: How To Make Money In College: 25 Ways Not To Be A Broke Undergrad
If you've ever wondered how a person making six-figures spends their dolla-dolla bills, y'all, this pie chart is apparently it. After paying off his $40 cell phone bill (cue hilarity), this particular dude spends $615 A MONTH in donations.
Now, I say "one particular dude" because the story was actually highlighting one special 25-year old who is "excellent with money."
Apparently, Trevor Klee is a Boston-based entrepreneur who works as a test prep instructor, a business he founded himself after graduating from Princeton. He tutors people for the GMAT, GRE and LSAT. "It's one of those weird skills that turned out to be really monetizable," he tells CNBC Make It.
But back to the pie chart. In addition to this unicorn-like $40 cell phone, he also only pays $20 for the internet and $825 for rent. Sure Trevor, sure you do.
Of course, most everyone on Twitter had a reaction and didn't see (or choose to see) the fine print of the corresponding article (like, he has four roommates). (But, still.)
https://twitter.com/jetpack/status/1076253286506860546
Klee first started tutoring as a student at Princeton University (not to beat a dead horse but he went to Princeton and has zero student loans). After graduating from college in 2015, Klee moved to Singapore to work for a test-prep company. According to the CNBC, he gave that up to move to the west coast with no income but some savings, and he crashed on his brother's couch for awhile.
I'd be remiss if I didn't point out Klee had a savings account from just a year and a half in the working world — fresh out of college. Um, ok bro.
But, I digress.
His grocery expenses do seem a bit high — more than the average two-person household in the U.S. — especially in comparison to his $250 a month dining out (since most 25-year-olds are grabbing food on the go). But who really wants to get in the weeds when you can drop $615 a month on charity.
Obviously, good on him for being able to recognize his strength, successfully start his own business, and give back. Let's just hope he's not one of those "I'm a self-made man who didn't need to rely on handouts to make it in this world" type folks.
Lest we forget, he went to Princeton and has no student loans to speak of — they're certainly not accounted for in that pie chart.
At the end of the day, this isn't a "typical" monthly spending for the majority of people. No one should look at their lives in comparison and think, "What am I doing wrong?" because this is…not the norm.
Now if you'll excuse me, it's time to hop into my DeLorean and find a $40 cell phone plan.
This article was originally published on