Pink Says She's Taking A Time Off From Music To Focus On 'A Year Of The Family'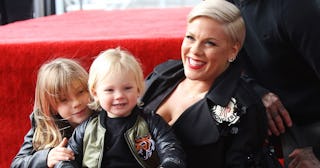 Michael Tran/FilmMagic/Getty
Pink also says it's husband Carey Hart's 'turn' to focus on his career too
While walking the red carpet with her family of the 2019 CMA Awards this week, Pink opened up to Entertainment Tonight about her plans for the next year: to take time off from music. Not forever, of course, but for a very important reason.
After an amazing but likely grueling two and a half year world tour, Pink says she's ready to settle down for a while. And that means taking a little break from music to focus on her family.
"Yeah, we did two and a half years, and Willow is back in school now, and Jameson's gonna start preschool soon, so it's kind of the year of the family," she says, while both of her children and her husband, Carey Hart, stood by her side.
The entire family joined her for most of her world tour, as fans were privy to via her social media posts. She shared everything — from her international breastfeeding journey with son Jameson, two, to training sessions with her daughter Willow.
Hart, a motocross racer, was often by her side, posting his own Instagram Husband photos in support of his badass wife as she belted out her hit songs and performed Cirque du Soleil-type acts in major cities all over the world.
But now that the tour is over, Pink says it's time to reciprocate and be a supportive wife. "Carey has a lot going on as well," she says. "He is super supportive. He follows me around the world, and now it's his turn."
Speaking of their perfectly imperfect marriage, earlier this year Pink opened up about marriage counseling. She revealed the couple has been in counseling for a majority of their 17+ year relationship. They celebrated their 13-year wedding anniversary this year, too. No doubt keeping their relationship a constant work-in-progress has helped them stay together so long.
"It's the only reason we're still together," she said during an interview with Carson Daly. "He speaks Polish, I speak Italian, and she speaks both. We don't speak the same language. We come from broken families, and we had no model for: How are we supposed to keep this family together and live this crazy life? And there's no book that says, 'Here's how to do this.' So we go to counseling, and it works."
She's also been candid in discussions about her experiences with anxiety and depression, and her tendency to "overthink things" in her own life. "What I do is I keep the right people around me, and I go to therapy," she says.
During the CMA red carpet interview, Pink explained why she brings her entire family along with her on tour and, specifically, to award shows.
"It's the dream," she says. "(My kids) just make it fun for me. They have so much fun. There's just so much to see, and it's really cool. … There are so many girls here tonight, it's going to be so fun. It's like the night of the women, I love it."
This article was originally published on