Channing Tatum Shows Off His Killer Dance Moves In Pink's New Video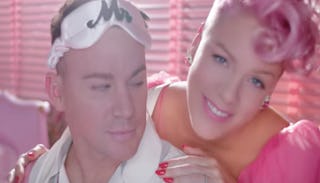 Image via YouTube
Pink's video for "Beautiful Trauma" features Channing Tatum and so much more
On the tail of her amazing duet with Kelly Clarkson to open the American Music Awards earlier this week, Pink is the name on everyone's lips these days. Now, the music video for her new song "Beautiful Trauma" off her album of the same name dropped today, and it's got a lot going on. There's dancing, singing (duh), pills, pretty outfits, S&M, and one other small detail.
Channing Tatum. Dancing. A whole lot of Channing Tatum dancing.
If your interest isn't piqued yet, check out the incredible video. We promise it's worth every hilarious second.
At the AMAs, Pink performed this song while rappelling down the side of the JW Marriott Hotel in Los Angeles, but even this talented woman singing from 30 stories above the city can't compare to what she and Tatum have created with this video. Set in a world of 1950s housewife kitsch, Pink and Tatum play an (unhappily?) married couple who get through a whole lot of weirdness in the course of one day.
There's matching Mr. and Mrs. eye masks and….morning wood. Ahem.
Gorgeous retro outfits and a cupboard full of pills.
And of course, plenty of the pair's ridiculous dance moves.
There's Tatum hiding in the closet while dressing in drag….
…and Pink totally rolling with it. Another amazing dance scene ensues.
Then, we have an S&M routine straight out of the 50 Shades Red Room of Pain. Pink, naturally, kills it.
At the end, the exhausted couple flops back into bed, eye masks switched.
Pink, you're amazing. Please never change. And Channing, feel free to star in as many music videos as you want. We are here for literally all of this.
This article was originally published on