Pink's Latest Adorable Video Prove All Kids Find Us Boring AF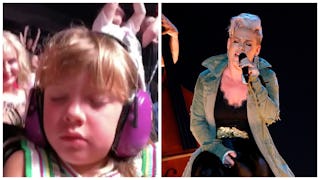 Image via Instagram/Pink/Getty/Taylor Hill
Willow had a tough time making it through her mom's kick-ass concert
Parents everywhere, take heart: it doesn't matter how cool your job is, your kids will still be relatively unimpressed by it. Even if you're Pink, who's arguably the most bad-ass mom with the coolest job ever.
After a recent concert in Dallas, Pink took to Instagram to share just how not impressed her daughter, Willow, was with the show.
In the video, Willow is seen snuggling up on her dad's lap, nodding off in the most adorable way. She's trying so hard to be part of what's going on around her, bless her sweet little heart. But she also gets to see her mom do her thing all the time, so she's decidedly less impressed by Pink than the rest of us are.
"I really rocked that shit tonight," she captioned the video.
The Grammy Award-winning singer is currently on her Beautiful Trauma tour, which began in March and ends this fall. It's undoubtedly a grueling schedule for anyone, but with the entire family in tow it's gotta be pretty exhausting. There's no doubt Willow admires her mama, but when you've seen one live singing, two-hour acrobatic performance you've seen them all I guess.
Pink sells out entire stadiums in some of the biggest cities in the country, and her kids are as "meh" about her job as all of our kids. While many of us aren't huge rock stars or out there saving lives on the regular, it would still be nice to know our little ones thought our jobs were cool.
As long as they think we're cool — as parents, not as humans — that's really all that matters. And we're pretty sure Pink has that on lock.