Pink Dyed Her Daughter's Hair In Solidarity With Jessica Simpson And It Looks Awesome
by Christina Marfice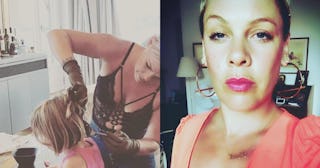 Instagram
This photo Pink shared will probably make the "Parenting Police" feel blue
Pink is still out here fighting against internet trolls in some truly hilarious ways. She's always been one to speak out against the online "Parenting Police" who troll and mom-shame every little thing celebs share about their kids online. She even went so far as to say she wouldn't share any more photos of her kids to her social media platforms, which broke our hearts because of how much she loves them and wants to proudly show them off.
Now, she's standing in sweet and hilarious solidarity with another famous mom who's been getting the brunt of it lately.
You may remember recently Jessica Simpson let her 7-year-old daughter dip-dye the ends of her hair purple, and the pearl-clutchers of the internet absolutely lost it, wondering aloud in the comments section that if this elementary schooler is so out of control as to have purple in her hair, what trouble will she get into when she's a teenager?!
While most of us were rolling our eyes into outer space at the fact that some people have such small lives they have to fill their time with criticizing a child's hair online, Pink was devising a plan to clap back at the haters while simultaneously showing her support for Jess.
"I heard people were bummed on Jessica Simpson for letting her seven year old get her hair colored. So we thought we'd share what we did yesterday," she wrote alongside an Instagram shot of her 8-year-old daughter, Willow Sage, getting a gorgeous new summer 'do that includes some pale blue locks. It looks amazing, we must say.
And here's the best part: The haters can't come for Pink, because she's had comments turned off on her Instagram posts for a while to keep the trolls at bay. That means she's the only one who gets to comment on this, which is correct, because she is Willow's parent and that means this is her decision to make. Online trolls can, um, worry about their own kids instead?
She finished the post with a hilarious collection of hashtags: #bluehairdontcare #getyourownkids #parentpoliceareactuallyjustlonelysadpeople #illdyeyourhairtoolosers #ohlookmanocomments
I have nothing negative to say about this at all, but can I still take Pink up on her offer in the hashtags and have her dye my hair? I think blue would be just the summer look a girl needs. Plus, matching the gorgeous Willow Sage wouldn't be a bad thing.