Pink Trying To Exercise With A Baby On Her Is All Of Us
by Jody Allard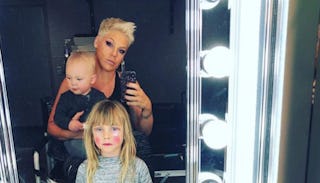 Image via Instagram/Pink
Pink's exercise video with her baby laying across her legs proves that even famous moms are still just moms
Pink is best known for telling it like it is, and she's been especially open about the reality of married life and motherhood. Whether it's opening up about dry spells in her marriage or basically singing an anthem to her daughter, Pink doesn't sugar coat the truth, and her latest Instagram post is no exception.
Pink posted an adorable video of herself working out with son Jameson. And by "working out," we mean turning herself into a carnival ride to get in her workout while on tour.
"Pre show warmups are seriously working my ab with this little bruiser," she wrote (and moms everywhere can relate).
Seriously, what mom trying her hardest to work in a quick sweat with a toddler around hasn't been there? Nothing like doing a plank with a wiggly 30-pound weight on your back, right?
Bringing her kids on tour isn't new for Pink, and she clearly relishes making it all happen. She regularly posts adorable pictures of her little ones hanging out in various cities while she knocks out her performances (and her workouts). A few days ago, she shared this adorable snapshot of Jameson playing in a ball pit with the hashtag #tourlife.
And last week, she shared this selfie of herself getting ready to perform, looking fierce AF, complete with baby in one arm. Talk about #MomGoals.
She's been sharing plenty of pictures with her kids from her "Beautiful Trauma" tour, including this one of herself posing in front of a tour poster in Tulsa with Jameson.
And this gem, where Jameson is all of us as he bites into a giant, pink-sprinkled donut.
Pink has long been known for including her kids in every aspect of her career. She brought them to the Grammy's this year, and last year she took advantage of her win at the VMA's to use her speech to remind her daughter (and all of the other girls listening) how beautiful she really is.
Pink has always been a badass, but bringing two kids on tour is next level. She's an inspiration to strong moms everywhere.
This article was originally published on