Pink Just Posted A Series Of Airplane Selfies That Will Make Your Ovaries Ache
by Valerie Williams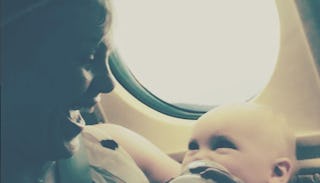 Image via Instagram/Pink
Pink's Instagram photos of her kids make us want more babies — stat
I am absolutely done having kids, but one look at Pink's latest Instagram post has me reconsidering the status of my baby-making parts. Her kids are unbelievably adorable, and photos of her cuddling them? Even more so.
Pink is one of our favorite celebrity moms for a reason — she keeps it real. That means she shows us both the good and the bad of her day-to-day life with six-year-old daughter Willow and one-year-old son Jameson. Her recent Instagram post showcases a precious series of selfies the singer took with her baby boy while on a plane, and they're bound to jumpstart your ovaries.
Honestly, leave it to Pink to make flying with a young toddler look downright blissful instead of the unmitigated shit-show it usually is.
Between tugs on his bottle, the sweet guy smiled big with his momma — and melted our hearts into puddles. Nothing like a mostly-gummy grin to make us want just one more baby.
Look at his happy little mug and Pink's serene mom smile. We cannot.
If Pink were really trying to help us out, she'd share a photo of Jameson losing his ever-loving shit because the bottle ran out, or a photo of him kicking her in the chest as she tries to change his diaper in the smelly closet masquerading as the plane's bathroom. But no, she just has to go and make us want to reproduce immediately so we can have more sweet baby snuggles too.
I mean, come on. It's just not even fair.