Even Pink Has To Remind Her Husband To Take Her Damn Picture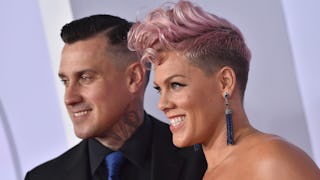 Image via Axelle/Bauer-Griffin/FilmMagic
Pink's recent Instagram post is one every mom can relate to
Open your phone and check the camera roll. Now check your Facebook and Instagram accounts. If you're a mom, chances are excellent that you have a thousand gorgeous photos of your kids, and often, your husband with your kids. What's usually missing? Photos of you and your kids.
Pink is totally there with you.
In a recent video she shared on her Instagram page, husband Carey Hart snuggles and nuzzles their one-year-old son Jameson. In the caption, the most relatable celebrity mom ever jokes about how she needs to make more appearances in family photos. We so get it.
"At least one kid is having fun while the other one spreads disease. And don't worry- Mrs. safety/fun police is making sure everyone has their seatbelt on while documenting history. Happy friggin 2018," she writes.
Pink then tosses a little passive aggressive action at her husband saying, "I hope one of @hartluck 's resolutions is to photograph his wife more. Just so people know I exist. Carry on."
Preach. And if Pink is anything like the rest of us, (and we know she is), she will then proceed to tell her husband to delete the photos with her in them because she doesn't like how she looks. Just last summer, after much griping on my part about no photos existing recently of my kids with their mom, my husband took a few. "My arm looks like a baked ham, delete it," I said helpfully after viewing his admittedly solid attempts.
Sorry, guys. We never said it would be easy getting photos with us in them. But the effort is worth it.
A quick scroll of Hart's Instagram page does show one photo after another of their daughter Willow and little Jameson, and just a handful include Pink, so she's not kidding.
Pink is dead on in wanting to make appearing in photos with her kids a priority. Because one day, those will be the photos they treasure most.
Even if your instinct is to delete or avoid a photo op altogether, just do it. Be in the damn picture. Trust us, you won't regret it.
Hopefully, Hart is paying attention to his wife's words and makes 2018 the year she pops up all over his Instagram page. We definitely wouldn't complain.