Pink Drags Troll Who Questioned Her Husband's Parenting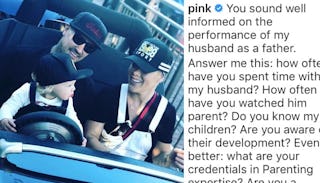 Image via Instagram/Carey Hart/Pink
Pink has no time for concern trolls who pick apart her and her husband's parenting
Pink is pretty much one of our favorite humans — and moms. She's fierce, brilliant, talented, and a mama bear who takes absolutely no shit when it comes to defending herself or her family.
And that comes in handy because internet trolls love trying to tell her how to parent — and she loves telling them exactly where they can stick it.
Last night, the mom of two shared a photo of her adorable toddler son Jameson enjoying some chocolate. The sassy caption about needing Instagram's parenting advice is a nod to the uproar earlier this week when she and husband Carey Hart shared photos of their sweet little fam riding dirt bikes together, which of course, brought all the concern trolls to the yard. Now? Her chocolate-covered baby brought out another one — and Pink's absolutely not having it.
In the comments section, one of her followers decided to chide Pink for her husband's choices.
"Sarcasm I love as I am too but with you husband being in the spotlight so often with his complete lack of regard for proper care of concern at times with your kids, this comment isn't funny, albeit Jameson is adorable. I love your music, your kids are beautiful but your husband, I'm sorry, lacks the responsibility your kids need in his care. I know, hit your fave button. I'll miss your posts."
And yet, it doesn't sound like Pink will miss her one bit.
"You sound well informed on the performance of my husband as a father. Answer me this: how often have you spent time with my husband? How often have you watched him parent? Do you know my children? Are you aware of their development? Even better: what are your credentials in Parenting expertise?"
She continued to eviscerate her, and it's basically perfection. "These are bold statements from a social media spectator," she writes. "I won't even unfollow you. It's not worth the trouble."
OUCH.
She wraps it up with the perfect mic drop. "God bless your perfect path. I have no interest in that myself. However, do check in from time to time to let us all know what other teachings you may have for us, oh perfect fucking stranger."
Yeah, see, you just don't come for Pink and expect her to stay silent. Questioning someone's parenting, celebrity or not, when they're by all accounts loving and informed, is garbage. This mom had no business trying to pick apart Hart, who's not only a loving father, but is literally a professional dirt bike racer.
The score? Pink 1, Instagram troll 0.
This article was originally published on