Pink Shares Adorable Photo Album From Her Family Reunion
by Leah Groth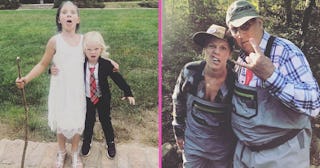 Pink/Instagram
Pink's family photos are gorgeous as you would expect them to be
Pink may be a super famous Hollywood celebrity, but she is also incredibly family-oriented. In addition to being a devoted wife and mother, the 40-year-old singer is an adoring sister and daughter. Last weekend she attended her family reunion at Blackberry Farm near Nashville, Tennessee, generously sharing a bunch of fun photos from the event with fans.
"I'm so proud of my big brother. (And my kids and @hartluck and family)," she captioned the awesome album. "We had a family reunion at Blackberry Farm this weekend and it is one of the most magical places I have ever been lucky enough to go to."
In the main photo she stands with her older brother, Jason Moore, who is a Lieutenant Colonel. Somehow, Pink's military-serving big bro has managed to stay out of the spotlight of his famous older sis – despite the fact that many fans pointed out he is smoking hot.
Some of the other photos included her super adorable kids, one of her with her Pops, a video of husband Carey Hart pushing their daughter on a swing, and another sweet snap of her and her bro.
Hart also shared some photos from the event on his Instagram account, revealing that Willow is now an avid fly-fisherwoman.
https://www.instagram.com/p/B24nAhqHE5F/
"Great few days with the family fly fishing, shooting skeet, and hiking in the mountains," he wrote. "Willow fell in love with fly fishing, cant wait to get her back in the water. Now back to the grind."
Pink's relationship with her family hasn't always been seamless. In a 2013 interview with Redbook, she revealed that her parents split up when she was young and that she didn't get along with her mother growing up. In fact, she kicked her out of the house at age 15.
"She never really tried to understand my experience and was trying to hold it together as a single mom, going to school full-time, working full-time, and raising two demons," she explained. "I don't think anyone ever tried to understand her, so how could she have the knowledge to understand me? And I was such a challenge to her. I pressed so many personal buttons. But we weren't to understand [our relationship] until she was 60 and I was 30." The two have since reconciled and are closer than ever.
As for her father, she paid tribute to him on Father's Day, in 2018, referring to him as being "my person all of my life."
"He has fought monsters in my closet, and monsters that posed as principals in school buildings, you name it. He has taken on the world for and with me, no questions asked. He made me feel important. He made me think I was worth loving. He taught me how to do it all myself. And when no one else was there, he told me to love myself," she wrote on Instagram. "I thank my stars for this man, that he was strong enough not only to fight his own monsters but mine too, and now my kids. I love you daddy sir."
She also recently shared how hard it was to raise her kids without their grandparents close by, something so many of us can relate to.
Clearly family is important to Pink. It's likely that her strong relationship with her parents, despite having hiccups in the past, contributes to her ability to be a kick-ass mom.