'Hiking Makes Us Thristy': Pink Shares Adorable Breastfeeding Photo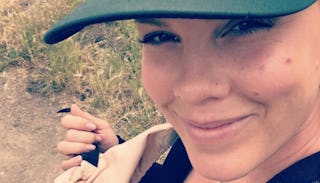 Image via Instagram
The pop star was hiking with her baby boy
Pink is once again doing what Pink does best: being an all-around badass and working hard to normalize breastfeeding.
On her Instagram account, Pink dropped a beautiful photo of herself and infant son Jameson on a hike. The little guy apparently got hungry at some point on the trail, so they stopped so he could get a snack.
"Hiking makes us thirsty!" Pink wrote in the caption of the photo, which showed smiling mama and happy, breastfeeding baby. She also included the hashtag, "#normalizebreastfeedingyo," a sentiment we couldn't possibly agree with more.
Breastfeeding is a completely healthy, normal and natural way to feed a baby, yet we all hear the horror stories of women who are shamed for doing it in public. Pink has been fighting to normalize breastfeeding for years, posting photos of both her babies doing it on her social media channels, as well as speaking out against those who think breastfeeding needs to be a private act.
In August of 2016, she celebrated National Breastfeeding Week by posting a photo of her daughter, and writing alongside it, "In honor of #nationalbreastfeedingweek2016 I proudly post this photo of a very HEALTHY, NATURAL act between mother and child. Taken in Helsinki by a very supportive and proud Papa."
And in February, she posted one of the most relatable mom pics of all time: Jameson breastfeeding while his big sister, Willow, was draped across mom's lap.
Pink has been outspoken about her choice to breastfeed, even when it makes others uncomfortable. In 2012, soon after Willow was born, she went on the U.K.'s Alan Carr Chatty Man Show and described being proud to gross out a childish man who took issue with her breastfeeding.
"I think breastfeeding is healthy and natural, and it's a comfort to my baby, so I can give a shit what somebody else thinks," she said. "The first time we went out to a restaurant, there was a guy who walked by, I had a cover on… and this guy walks by and was like 'Uughhh' — he was just disgusted. I was like 'You didn't get enough hugs when you were little."
Rock on, Pink. Breastfeeding moms need all the support they can get.