Pink Took The Most Adorable Date To The CMA Awards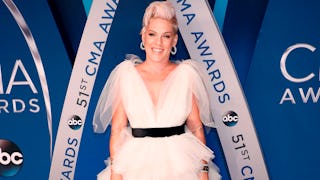 Image via Taylor Hill/FilmMagic/Getty Images
Pink and adorable daughter Willow nailed it on the red carpet
Pink is the celebrity mom I most wish were my mom, and that's because she's warm, funny, and takes absolutely no shit. She's also cool as hell, bringing her two kids along on tour, letting them enjoy life on the bus and time with their ridiculously amazing rock star mom.
And now, she's the cool mom yet again, this time, because she brought her six-year-old daughter as her date for an awards show.
Pink and daughter Willow walked the red carpet at the CMA Awards last night, and it was simply the sweetness and most pure thing on this planet. The little girl looked so excited to be there with her mom, and Pink? Well, she looked like a proud momma. As she should be.
Look at these two.
Willow was adorably perfect in her dark blue, sparkle-covered dress and tiara while Pink stunned in a ruffled, white gown and black belt. The mother-daughter duo were red carpet stars, because of course they were.
We literally can't. Look at how sweet and silly Willow is while her mom gazes down lovingly. It's all too much for our hearts to take.
They absolutely slayed.
Pink continued to slay during her performance as the guest pop star, promoting her new album "Beautiful Trauma" and singing her song "Barbies" for the crowd.
It was only Willow in the audience from her adorable little fam, as it looks like husband Carey Hart and ten-month-old son Jameson stayed home last night.
But Willow was all she needed.
It wasn't the first time Pink brought along her special guest to an awards show — Willow came to the MTV Video Music Awards earlier this year where she got to see her mom give an empowering speech about a conversation they had where Willow told her mom she felt like "the ugliest girl," and Pink's perfect response set her straight.
The way Pink shares her life as a parent makes us love her all the more. Whether it's her honest parenting anecdotes, strong feelings on normalizing breastfeeding or her willingness to let us see her less-than-perfect moments, she's always 100 percent real. Last night was no exception, as she did what so many of us would do if given the chance — she got dressed up with her little girl and enjoyed a special evening with her, just mom and daughter.
We doubt Willow (or her mom) will ever forget it.