Pink's First TikTok Proves Daughter Willow Can SING
by Madison Vanderberg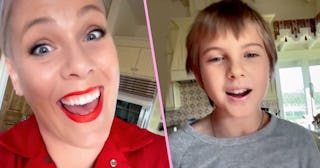 P!NK/TikTok
Pink joins TikTok and celebrates by posting a video of her daughter Willow singing
Pink celebrated her TikTok debut with a sweet video of her 9-year-old daughter Willow singing and damn if vocal talent doesn't run in this family. In a cute video, Willow sings a song called "Cover Me In Sunshine" and mama Pink is clearly surprised by her daughter's confident and impromptu performance.
"Or I could just sing!" Willow says with confidence before launching into her run.
https://www.tiktok.com/@pinkofficial/video/6927035961054448901?is_copy_url=1&is_from_webapp=v1
Willow clearly can SANG, but I also love the tail-end of the video when Pink turns the camera around and blurts out "Yeah okay!" clearly a little taken aback by Willow's greatness.
Also, I've scoured the internet for this song "Cover Me In Sunshine" and cannot find a song by this name, which makes me think Pink and her daughter wrote it? Maybe? Either way, the sweet lyrics include: "Cover me in sunshine / Shower me in good times / Tell me that the world's been spinning / Since the beginning and everything will be alright / Just cover me in sunshine."
The comments on the video run the gamut from "so vocals run in the family I see…" to "the next pink is born" to "She is the queen of pop it's over for you Alecia" and lol. Willow even got a few song requests in the comment section, with one fan begging her to sing the viral hit "Driver's License."
Willow might actually be a mini-pop-star in the making. Back in November 2020, Willow wowed everyone when she and Pink sang a Christmas duet together during Disney's Holiday Singalong. Willow joined Pink for "The Christmas Song" and belted, I mean BELTED, out her verse.
I'm not shocked Willow is so good — considering who her mom is — but Willow has like, style and like, 9-year-old edginess already. Most 9-year-old singers sound like they're in a production of Annie, but not Willow, she's cool AF.
Oh and back in 2018, Pink and Willow actually recorded a fresh take on "A Million Dreams" from The Greatest Showman and it was also, not surprisingly, spectacular.
In addition to singing, Willow is also a budding mask-maker. Yep. Earlier in the pandemic, Pink shared that her daughter sewed her own reusable mask using an old Billy Idol shirt. Cool, good at singing, and industrious? Okay little Willow, go off!
Very excited for a future of Mother-Daughter signing duos that include Pink and Willow, Beyonce and Blue Ivy, and J.Lo and Emma. Keeping singing ladies!