Pink Claps Back At Troll Who Criticized Her Family Dinner
by Julie Scagell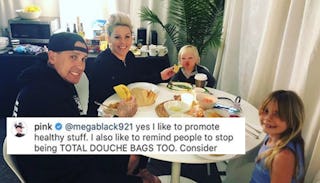 Image via Instagram/Pink
You don't call for Pink, she comes for you
It's impossible not to love Pink and everything about her family. She's a total badass, has two adorable kids, a supportive husband, and is one of the most talented women on the planet. Is her life perfect? Hell no — and she's the first to admit it. But when she decides to let the world into an intimate family moment, the last thing you want to do is criticize her — as this next woman quickly found out.
"At least twice a week on tour, we shut the door to the outside world and have family dinner," Pink posted on Instagram. "As you can see, it makes Jameson feel deep, deep joy," she said next to an adorable picture of the entire family eating tacos as Jameson pulls a face only a toddler can.
Who could ever say anything negative about this beautiful family enjoying some much needed time together? Well, it's the internet and that means someone will always find something to bitch about. Shortly after posting the picture, someone decided to do just that, posting, "Except its posted on ig," referring to the Grammy Award winner's comment about shutting the door to the outside world.
Understandably, that did not go down well.
Pink nonchalantly responded back, "Yes, I like to promote healthy stuff. I also like to remind people to STOP BEING TOTAL DOUCHE BAGS TOO. Consider this your reminder, Fucko." So, that happened.
Unfortunately, the commenter just couldn't get out of her own way. "And well damn. I was coming to see ya Sunday night in Nashville … still love the music," she continued. Bless. This didn't do too much in the way of winning Pink's affection. "That doesn't change my answer. That just makes you confused," she wrote.
LOL.
The mom of Willow, seven, and Jameson, two, has never been one to shy away from haters. She's in the spotlight, especially during her current tour, and a certain amount of negative attention is expected because, as she points out, people are douche bags. But she's also the first to openly tell it like it is about everything from sex dry spells, winning and losing during her career, and trying to maintain some semblance of life after kids.
This is one of the (million) reasons we love her. Then again, we don't have to deal with the trolls that result from being in the public eye. Thankfully, she's a pro when it comes to taking down people who only wish the worst for people.
For the majority, we're here for the good, bad, ugly, and all of the family dinners. Please keep posting — we're better for it.
This article was originally published on