Pink & Daughter Willow Perform Aerial Duet In Dazzling BBMA Performance
by Christina Marfice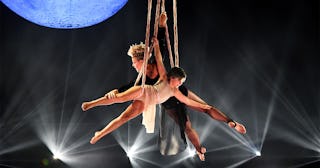 Kevin Mazur/Getty
Pink and her daughter Willow performed together at the BBMAs, showing why Pink is an icon and why Willow is going to be a rising star to watch
There's no question that Pink is an absolute icon. But at Sunday night's Billboard Music Awards, she was properly recognized as such, receiving the event's prestigious Icon Award. Before making her acceptance speech, the singer took the stage to perform a medley of some of her biggest hits — and blew viewers away when her daughter, Willow, joined her onstage for part of the performance.
Pink's full performance included parts of "So What," "Who Knew," "Just Give Me a Reason," and other hits with a live band. But before she sang, she entered the stage to perform on a trapeze along with Willow. As "Cover Me In Sunshine" played in the background, the mother and daughter duo performed an absolutely breathtaking aerial dance.
It's just a testament to the incredible bond these two have — and how freaking talented Willow is, which we keep learning more and more as she grows up. Viewers were both blown away by the performance, and touched by how much fun Pink and Willow seemed to be having onstage together.
The song is one Pink recorded with Willow earlier this year and it seems Willow is truly ready to be on the music scene with her talented momma.
The joy on Willow's face is simply too much.
You wouldn't think there would be anything Pink could do to top that performance, but then she took the stage again to accept her Icon Award, and her speech was one for the ages.
"I love what I do and I love the people that I get to do it with, and we're pretty good at what we do, but it wouldn't matter if no one came to see us and play with us. So all you guys out there and around the world, thank you for coming out. Thank you for letting us all heal together," she said. "This is an absolute honor, and just dream big, because what if it comes true?"
She went on to say that she always dreamed of "being a singer and sharing my love of music with the world."
"Years later, to receive the Billboard Music Awards icon award is hard to fathom!" Pink continued. "It's a true 'pinch me' moment, and I feel humbled and blessed."
That's exactly the kind of message we're sure Pink, the incredible mom that she is, is instilling in Willow every day — to follow your dreams no matter what. And it truly showed when the mother-daughter pair performed together.