Pink Powering Through The Flu Is Proof Moms Get Sh*t Done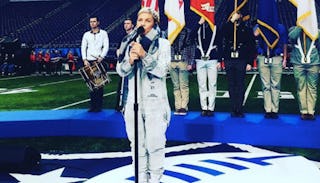 Image via Instagram/Pink
Pink says she's still performing during the Super Bowl despite having the flu
Pink is a powerhouse singer, fierce advocate, and all around badass warrior. She doesn't let anything get in her way — including some super nasty flu symptoms. The singer is set to perform the national anthem at the Super Bowl tonight, despite battling some pretty serious flu symptoms.
This means that those of us who have little to no interest in sports (hello, hi, this is me) can still tune in to show Pink our love and support, and then promptly tune out as soon as any sort of football appears.
Pink took to Instagram to give her fans some advanced warning about her physical state. "I've been waiting to sing this song since 1991 when I saw my idol, Whitney Houston, own this song. And now, my chance has finally come," she wrote. "It just so happens that this chance comes when I have two small Petri dish kids who literally cough INTO MY MOUTH and rub their snot on my cheek."
Yup, doesn't matter how famous, successful, and glamorous you are. At some point in your life, your child will rub their snot on your cheek. Petri dish kids INDEED.
The singer went on to say that her biggest dream is slowly becoming her biggest nightmare — but she's continuing to push through. "I will tell you, this is one of the biggest honors of my life, singing this song in front of my family, my military family, my dad and brother and step mama and family and the world. And the EAGLES!?!?!" she wrote. "I promise I will do my best, as I always do."
Oh, and don't worry. She still has nothing but love for the little ones who got her into this mess. "You can cough at me for the rest of your lives," she said. "If it's a contest, babies, you win."
The singer is headlining alongside Hamilton star Leslie Odom Jr., who will be singing "America the Beautiful," and Justin Timberlake, the show's halftime performer. Very excited for all the powerhouse voices hitting the stage this year, and keeping my fingers firmly crossed for Pink's vocal chords.
This article was originally published on