10 Pioneer Woman Goodies The Whole Family Will Love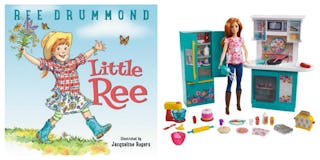 WALMART.COM
We love the Pioneer Woman line for our home — her kitchen and bed line is on point and we want it all. But our kids can get in our on the fun, too.
Not only does she have whimsical pieces your whole family will love, she also has a Barbie line and I don't care how old you are, you are going to want to play old-school style with all the tiny kitchen utensils. Here is Scary Mommy's list of favey-faves.
This is a dream kitchen for anyone, not just Barbie. It comes complete with the tiny food, the tiny glasses, and look at all the storage? This is one of those toys we can see ourselves playing with while our kids are napping, then getting upset with them if them mess with our organization.
You would have wanted this set when you were little and you know you still want to play with it now — this Barbie baking set is so much more fun than real-life baking. Your kids will get hours of fun out the mini spoons and bowls of pasta.
Animal kitchen accessories just make you smile. This sweet dog doubles as a cookie jar and will look so adorable on your counter next to all the mess and clutter.
Barbie loves to grill and this set delivers everything she needs to host an amazing outdoor gathering. Who can resist the tiny hot dogs and burgers, and can you even stand those s'mores?
All the Pioneer Woman pillows are fun, and you will have a blast mixing and matching them. We love the "Bee Kind" pillow — it will look great in your kid's room and be a nice pop of color in your living room. You will love the vintage vibe they will bring to your space.
This isn't just a decorative barn to put in your kitchen — it holds your delicious baked goods too and will make your family's cookie-eating experience more magical, even if you didn't bake them yourself. And the good news is when it's empty you can stuff your bills inside to keep them out of sight.
Barbie needs to go to the grocery store and your kids will love getting her all set up with everything she needs for the week. You are going to want to add this addition to their expanding Barbie village.
Everyone loves a nice, colorful quilt and these beauties are timeless and can take your room, and your kids' room through the years. After all, you never outgrow classic styles.
Not only does Ree Drummond have best-selling cookbooks, she also has one for your kids to enjoy. This sweet book is one you must add to your growing collection of kids' books.
What kid doesn't love an ice cream sundae?! And these cute little dishes make them even more fun.
Grab a few of these fun pieces for yourself, and a few for your kids. They will stay busy playing with their new Barbie accessories, and you can watch them while snuggled under a warm quilt, or fill those totes adores cookie jars with fresh baked treats.
We are a participant in the Walmart.com Affiliate Program and may earn fees by linking to Walmart.com and affiliated sites.
This article was originally published on