Pixar's Touching Short Film 'Bao' Is Free To Watch, But Only This Week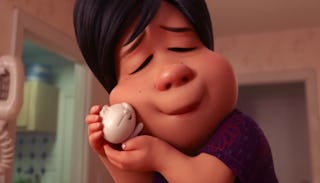 Image via Pixar
After being shortlisted for an Oscar, Pixar's emotional film about parent-child relationships is free to watch on YouTube this week
If you saw Incredibles 2 at the theater this summer, you probably also saw a sweet eight-minute short film called Bao, which is about a Chinese-Canadian empty nester who finds love in a steamed dumpling that suddenly comes to life (and needs a mom).
The film, which was written and directed by Domee Shi, was just shortlisted for the Best Animated Short Oscar, and will be free to watch on YouTube for the next week – so get your mini-bags of popcorn and tiny sodas ready.
The computer animated film, which is free of dialogue, follows an aging mom who "adopts" a steam dumpling that has come to live on her table. The pair share everything together (including pastries) but, just as her first child did, the baby bao grows up far too fast.
The movie was praised by audiences and critics alike when it was released, both for its amazing animation (which pays homage to claymation and stop-motion animation) and for its sometimes-shocking story that hits upon the issues of immigration, parenthood, aging, and acceptance.
Some were critical of its storyline, saying that it didn't make sense, or that it wasn't representative of their parent-child relationships, but people in Asian and immigrant communities quickly clapped back, explaining that the story resonated deeply with their experiences (and even if a story doesn't resonate with you — maybe be quiet about it and continue to live your life?).
Mostly, though, people are thrilled to have a film to watch with their kids that captures so many aspects of Asian culture (and universal truths about parenting) so well.
Writer and director Domee Shi has been a storyboard artist and director at Pixar since 2011. She moved with her parents from China to Canada when she was two, and has said in interviews that her mom was an influence for the mother character in Bao. Shi's father is an art professor, and she grew up with a love of both Disney movies and anime.
"I got the idea for Bao over four years ago," she told Sup China. "I was working at Pixar as a storywriter, working on the film Inside Out, but was itching to do something creatively on my own. I was brainstorming one night, and the image popped in my head of an old Chinese lady nuzzling this little dumpling boy to death, and I had to draw it out on paper immediately. From that one drawing, the idea started forming.
"I started thinking about my own life growing up — as an only child, I have always felt like a very overprotected, nuzzled little dumpling by my Chinese mom. And I really wanted to tell a story that explored the relationship with an overprotective parent learning to let go of her kid, using this dumpling, this bao as a metaphor."
The movie was nominated along with a few other standouts from the last year in short animation, including Age of Sail, Animal Behaviour, Bilby, Bird Karma, Late Afternoon, Lost & Found, One Small Step, Pépé le Morse, and Weekends.
Oscar nominations will be announced on January 22. Fingers crossed for Bao.