Why I Loved Pixar's 'Luca' So Much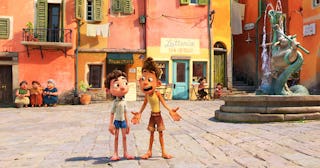 Disney+
"It was very entertaining. It was creative. There were beautiful colors." That was my eight-year-old son's review of "Luca," the new Pixar film streaming now on Disney+. I sat down with my kids to watch it and the four of us agreed that it lived up to the happy hype. The story of friendship and following your heart is the perfect start to summer.
"Luca" follows the journey of a young sea monster who finds his way from an island in the Italian sea to the forbidden surface. Under the water, he is safe. He follows the rules. He is a good boy. Luca, voiced by Jacob Tremblay, lives happily with his family, but he longs for something more. Against all of the rules, Luca heads to the surface where he takes on a human form and befriends a sea-monster-turned-human named Alberto (Jack Dylan Grazer) who is a bit of a drifter. He doesn't have a family, but he does have big dreams. Alberto wants to live on the land forever and Luca is tempted.
His parents Daniela (Maya Rudolph) and Lorenzo (Jim Gaffigan) warn of the dangers of the surface when he is caught exploring; they disapprove of him returning. But Luca is on a journey to find himself and feels that the human world is where he will be most happy, so he runs away. Together with Alberto, he sets out on an adventure.
Luca and Alberto decide to brave the town of Portorosso for the summer of a lifetime. Luca quickly becomes acclimated to the land and finds being a human much easier than he thought it would be. They meet a young girl named Giulia (Emma Berman) who is on a quest of her own. She is training for the town's annual race and wants nothing more than a win. The boys keep their true identities a secret and help Giulia in her quest for the cup.
It is subtly mentioned that Giulia's parents are no longer together as she lives with her father, Massimo (Marco Barricelli) during the summers and attends school in another town with her mother the rest of the year. While summering in Portorosso, she enjoys time with her father, who is an avid fisherman and sea monster hunter. Knowing they are in danger if he finds out they are sea monsters, the boys must keep their secret.
Luca's parents are a nervous wreck, finding themselves on the surface posing as humans, trying to find their son. This is where the film plays up the silly antics and goes for a bit of comic relief. Their silly adventures trying to find their son give the film a fun diversion.
The film takes place in a town far away and a time that is not defined. It is refreshing to watch a story unfold with zero dependence on modern technology. Not a reference to the Internet or texting, nary a cell phone or TV to be found in the entire film, which gave it a bit of charm. I found myself feeling like I was being taken to a quaint little town that didn't need any of those distractions to make the character's lives easier. They were happy without any of that.
Throughout the story you get the sense that Luca and Alberto are both on a quest for something more. Alberto longs for a family, talking about how he misses his father. And you can see that although he must not unveil his true identity to Massimo, he feels a connection. Luca's journey is a bit more elusive. It has been suggested that Luca may be questioning his sexuality and why he is different. But while he may be on a journey to find himself, what he is looking for is not made clear.
Luca's parents and their relationship with their son is an underlying, but important theme. As a mom, I could feel their pain as they looked for their son who had decided that the life that they were giving him wasn't the life that he wanted. And I could empathize with the grief that a mother experiences when she realizes that her baby has grown up and is ready to make his own decisions. Unlike many Pixar films, this movie wasn't a tearjerker, but it does tug at the heartstrings a bit.
I won't give away the ending — I hate spoilers — but I will say that the movie wrapped up its storylines well. I walked away smiling for the characters and knowing that they would be successful and happy. Luca is a sweet summer story that will entertain the whole family. As my five-year-old daughter said, "It was definitely funner than the last movie we watched."
This article was originally published on