Pizza Hut Manager Makes Kayak Deliver To Homes Stranded By Harvey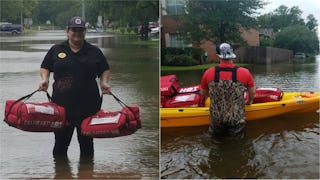 Image via Shayda Habib / Facebook
Texas Pizza Hut manager Shayda Habib made sure her neighbors didn't go hungry during Harvey's floods
Residents all over the Gulf are still battling the after effects of Hurricane Harvey. Oak Lake, Texas, a small town southwest of Houston, is still largely under water, and many of its stranded residents were in need of food. So a local Pizza Hut manager, Shayda Habib, stepped in.
Habib stopped by her restaurant on Tuesday, and realized she had enough ingredients to make some pizzas, and she wasn't about to let her friends and neighbors go hungry in Harvey's aftermath.
"When I heard there were families in need, I knew we needed to act fast," Habib told the local NBC affiliate, KPRC. "I called my husband and asked him to gather up kayaks and meet me at the restaurant."
Habib also called in as many of her store employees as were able to get to work, and together, they started making pizzas. They loaded the pies into delivery pouches, then stacked those on kayaks and delivered them to as many flood zone homes as they could. Along the way, Habib documented their work through some amazing photos she posted on her Facebook page.
Habib and her employees were able to get 120 pizzas to stranded residents, and they plan to keep making and delivering pies until they run out of ingredients, she said.
"The people in the houses didn't expect us to come," she said. "It was so nice to see their smiles after so much gloom."
Habib and her team even caught the attention of the national Pizza Hut Twitter account, which tweeted out a photo of their water delivery, along with the supportive message, "THANK YOU to our Oak Lake Pizza Hut team for their out-of-the-car response to deliver hot pizzas all day to the community they serve."
James Bodenstedt, the franchisee who owns the Pizza Hut restaurant Habib manages, also praised their actions.
"We are so proud of our team for seeing a need, stepping up and helping the community in a time of devastation," he told KPRC.
During a time of so much devastation, neighbors helping neighbors like this is truly a shining light of hope.