20 Foolproof Places I've Hidden My Candy Stash
by Christina Antus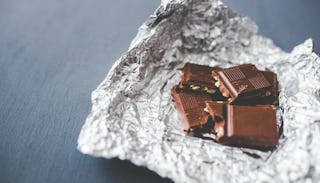 Kaboompics
I often find that anything I have to snack on, everyone else wants too, and most of the time I don't mind sharing. Even if that means giving away all of my portions, I'm usually happy to do so. However, there are some days when I simply don't want to share. Sometimes I just want to keep that 32-piece assorted box of Russell Stover chocolates all to my greedy little self. And I do.
Last Christmas I bought four boxes of those bad boys for gifts and managed to strategically hide and eat them all without anyone suspecting—even when my husband pointed out "tiny mouse droppings" on the guest bed pillows, which I immediately recognized as miniature chocolate sprinkles from a dark chocolate truffle I had smuggled out of the box earlier that day while wrapping presents. I simply flipped the light off and left the room and him in it.
Over the last few years, I've discovered some foolproof hiding spots for my candy stash that I'd like to share with all the new parents just getting toddlerhood momentum rolling—those who are desperately in need of something for just them, even if it's just a snack-sized Kit Kat bar and 40 seconds of alone time. Here are a few of my favorite stash places:
1. Inside an empty paint can under a stack of full ones in the utility room.
2. Anywhere in the laundry room. It's like a Kmart—no one goes in there.
3. In the bottom of a box of all granola cereal. No one eats it. In fact, they move away from it like a jogger would swerve from a dead skunk on the side of the road on a hot summer day.
4. Under my pile of maternity underwear in the second to last dresser drawer.
5. Behind the 409 cleaner and Windex.
6. Under my side of the bed wedged in the bed frame slats.
7. Inside a bag of frozen vegetables in the freezer.
8. On the top shelf in the far right corner of the baby's closet.
9. With old tax returns and filed paperwork.
10. Inside my folded socks in the dresser drawer.
11. Under the pillows on the guest bed where tiny mice, who poop tiny chocolate sprinkles, apparently reside.
12. Inside the garment bag that holds my wedding dress.
13. Inside the drawer that holds my 3-year-old's pants—she hasn't voluntarily worn pants since her second birthday.
14. Stuffed inside the hole in the plastic wrap on an unused yoga mat I got as a birthday gift four years ago.
15. In the back of the fridge in a container marked, "leftovers 4/15/2010."
16. Anywhere in the car. If your car is like mine, you don't even want to look for stuff in there.
17. In the diaper bag. Evidently it's not as interesting to burrow through as my purse.
18. Inside shoeboxes marked, "coupons."
19. Anywhere in the Christmas decoration boxes in the attic.
20. Anywhere in the Easter decoration boxes in the attic when it's Christmastime.
So get creative. Go where no one else will, or wants to. Those are the best places to successfully bury the pirate booty. If you need an emergency candy stash, I'm always happy to help hide candy, but I wouldn't trust me with a box of Russell Stover chocolates. You can, however, use those to make a sprinkle trail to the paint cans in the utility room. It looks just like miniature mouse poop. And no one's getting near that.