Cheez Powder Will Turn Any Food Into Cheez Balls Because Why Not?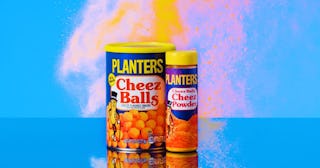 Planters
Anything can taste like Cheez Balls thanks to this delicious powder
You may remember when the epitome of everything that was good and right about childhood (yes, I'm talking about Cheez Balls) hit shelves for a limited time last year. It was successful beyond anyone's expectations as canisters of the orange goodness flew off shelves and into the bellies of happy Americans. Because of the success, Planters has decided Cheez Balls are here to stay and they are celebrating in a most glorious way — by offering fans a chance to win a container of just the orange powder to sprinkle on All Of The Food to our heart's content.
That's right, folks. The world is a complete cluster-fuck but now you can own your very own three-ounce shaker of the powdered orange magic that puts the Cheez in Cheez Balls. You and you alone can decide what to sprinkle it on, and the possibilities are seemingly endless.
People can't just head down to the local supermarket for this one. As with anything of importance, if we want it, we're gonna have to work for it. The Cheez Powder is part of a sweepstakes being put on by Mr. Peanut. Simply comment or tweet @MRPEANUT using the #CheezBallContest hashtag explaining what food you plan to adorn with this limited-edition cheesy dust and 350 lucky winners will be selected based on their answers.
The chance to win starts now—the contest will run between Tuesday, August 20, and Sunday, September 1 and people are already upping the ante by listing ideas like popcorn, on top of grilled cheese sammies, fried chicken, and my two personal favorites — to rim a martini glass, and of course, just straight out of the container.
If you happen to live in NYC (or need an excuse to visit), there will be a Cheez Ball-inspired pop-up food truck called the NUTmobile with items like Mac & Cheez, Powder Poppers, Gooey Gouda Grilled Cheese, and more at Astor Place on Wednesday, August 21 from 11 a.m. to 7 p.m.
It's important to remember even if you don't win a Cheez Ball Powder shaker, the Balls themselves are here to stay. "After seeing fans' excitement last year when Cheez Balls returned, we knew we had to find a way for Cheez Balls to stay," brand manager Samantha Hess said in a statement. "To celebrate Cheez Balls being back, we're giving fans more of the iconic flavor they're obsessed with so they can enjoy the cheezy flavor on any food."
Run, don't walk, to your nearest store or online at Planters.com to treat yourself with one or ten canisters. They are perfect for football Sundays, to put in your kids' lunch boxes, or basically as a side item with any meal. And if you're lucky enough to win the Cheez Powder, you won't even need to spend those extra minutes licking every last ounce of Cheez Ball residue off your fingers when you're done.
This article was originally published on