Play Needs To Be Part Of Learning
by Clint Edwards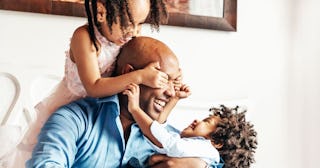 Matthew Henry/Burst
My 5-year-old daughter, Aspen, is starting kindergarten in the fall. Which means this summer is that last full blown, all out, Hail Mary push to get her ready for school. She went to preschool, sure. And frankly, they noticed some things. We all did. She's a talker, for example. She's that kid who interrupts the class to ask why ducks don't have arms. And her attention span, well … it isn't horrible, but right now, she's not exactly competitive for Harvard. She likes to do her own thing, and when it comes to learning, it's pretty difficult for her to sit down and focus.
Aspen is my youngest, and with my older two, we hit up the summer workbooks to get them ready for school. We sat those little preschoolers down at the table and fought and fought and fought (I could go on, but you get the idea) to get them to pay attention. To get them to count the ducks and find the shapes and name all the colors. What we tried to do was get our kids ready for school by creating our own little school in our living room. And let me just say, it was a squirmy, tantrum-filled, booger-coated hell. The kids didn't look forward to these daily lessons, and neither did my wife and I. In fact, if I had an hour left to live, I'd spend it teaching my middle daughter how find shapes, because it felt like an eternity.
But with Aspen, we are trying something new. We are using play. We are using everyday life, and let me tell you, it's going really well. And listen, it's easier than you'd think. So much of teaching young children to learn via play is about involving them.
For example, the other day I went shopping with Aspen. She was in the cart, and she asked if she could help. There was a part of me that wanted to say, "You can help by just sitting there and letting me focus." But instead, I decided to try to make the trip a fun learning experience. And yes, I gave myself a gold star for the day.
Honestly, though, it was simple. As we went through the store, I asked her to help me find the strawberries. "Do you see them? What color are they?" I did the same thing with the bananas and the Goldfish crackers and the milk. I asked if the crackers were real fish, and where the milk comes from, and once we were done at the store, I got her a cookie from the bakery.
I am aware as any parent that going to the store and trying to make it a learning moment doesn't always go this well. But I got my shopping done, and it went a lot easier than the last time I tried to get her to focus on a workbook.
This is what play learning is all about: including your child in activities, asking them questions, and turning life into a playful learning activity.
One of the best sources I've found on using play as a way to get your children ready for school is a new book out by the good people at Sesame Street titled "Ready for School." The author is Dr. Rosemarie Truglio, a child development expert who has been helping develop Sesame Street's educational programming for 20 years. It's actually full of fun ideas on how to get your child ready for school by using the things around you, and involving your youngster in simple activities, just like I did at the grocery store.
According to "Ready for School," something as simple as your child helping you set the table can be a learning activity. Asking your child to count how many people will be eating, and then having them count that same number of plates, becomes a demonstration of one-to-one correspondence. You can also demonstrate to your child how to put a plate down, with a knife to one side, and fork at the other, with a cup above. Then have them model that same pattern with each setting. This ultimately teaches your child patterning, a critical skill for children entering school. You can compare spoons (serving spoon, to the soup spoon, to the teaspoon), and use it as a means to teach your child what is different, and what is the same.
Getting any child to set the table can be chore in and of itself, but if you can teach your child about shapes while also setting the table, the fight might just be worth it. Plus, play learning is a great way to combine real world application to the child's learning, and that can often stick better than learning something theoretically in a book.
On the whole, getting a child ready for school can be stressful. And it can feel like a huge amount of work. But, one of the elements of play-based learning that has been blowing me away is that it doesn't really feel like work, and much of it seems pretty obvious once you get into it. 90% of play learning is simply slowing down long enough to ask the right questions and involve your little one.
So give it a shot. What's the worst the could happen? You all just might have a little fun along the way.
This article was originally published on