Wine, Wi-Fi, And Other Things That All Children's Playspaces Should Offer Bored Parents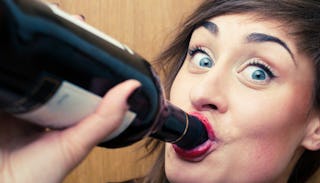 Tomas Urbelionis / Shutterstock
There's a new commercial for Chuck E. Cheese's that instead of trying to get the attention of kids (GAMES! TOYS! PIZZA! GIANT ANIMATRONIC TALKING RAT!) they are trying to appeal to the adults who have to accompany the small humans. The commercial boasts things like an adult menu (you know something other than cardboard pizza and nuggets) and free Wi-Fi as a way to make you more interested in sitting in a germ factory and watching your kid attempt to play Skee-Ball while your shoes stick to the floor.
While Wi-Fi is tempting (you can post passive-aggressive Facebook statuses about other parents or — gasp! — get work done), I wish there were more fun things for adults. This is true of a lot of playspaces for children. For example, our local mall has a toy store and a Disney Store that my toddler loves to hang out in. The toy store has a cute play area full of Duplos for the kids to play with while the adults (presumably) shop. For my kid, the play area has become a treat if he hasn't been an insufferable little shit while I shop at all my favorite places.
My biggest issue (and the reason I don't want to stay for more than 10 minutes) is that there is nothing for me to do there, aside from buying more toys. I understand that is the point of your traditional toy store, but I would be more inclined to buy something if they made the experience more appealing to adults. Some hot coffee, and some comfy chairs to crash in, would go a long way. Purchase required? No problem. Enjoying hot coffee while my child enjoys social interaction? Priceless.
There are actually quite a few places that would benefit from having some more adult centric entertainment. So if you're listening Disney Store people, here's a list of things you can put in your stores that would make me more inclined to frequent your establishment more often and drop more coins.
Electrical Outlets
Being able to bring my laptop and plug it in means that I would set up shop and stay for a while.
A Coffee Bar
Being a mom is hella exhausting. And sitting around watching my kid play is boring as fuck. So, after like 10 minutes, I'm ready to fall asleep. You know what would keep me awake? An iced coffee. I don't need anything fancy like a Unicorn Frappucino. Just have half-and-half and real sugar, and I'm cool.
Wine and Cheese
At some point, years before I had a child, Chuck E. Cheese's served wine. Upon current investigation, it seems that is no longer the case. I propose that we bring this back. And a cheese plate. Maybe a charcuterie board? I love cornichons, and my kid loves tokens, so this is a win-win.
Massage Chairs
Seriously, why are all the seats for parents so damn uncomfortable? I. DO. NOT. GET. IT. You want me to stay for hours? Get me one of those chairs that will knead the knots out of my back that I get from lifting up my 40-pound 3-year-old.
A Manicurist
Dude. My nails look rough. They're brittle from all of the time I spend with my hands in water. Add on top of that the fact that they constantly split and crack, and I could totally use a manicure. So, like, get a couple chairs off in the corner. Yes, I know I can do it at home. But I don't want to.
Cots
Seriously. I'd pay anything for a fucking nap. It doesn't have to be long. Just 15 minutes. Please. (Let's not discuss the germ factor yet — this is just the brainstorming phase.)
There are more brilliant ideas where these came from — this is just a jumping-off point for the genius that is mom-child hybrid experiences that don't involve parental participation in anything other than sipping beverages and cranking up the massage chair to 11.
It would really behoove child-oriented businesses to take my advice. Trust me when I say that I speak for moms everywhere. Sure, kids deserve a place where they can let loose (the tagline for Chuck E. Cheese's is "Where a kid can be a kid"), so why can't the adults that accompany them? Get on it, Chuck.