Plus Size Holiday Fashion Must Haves For Under $100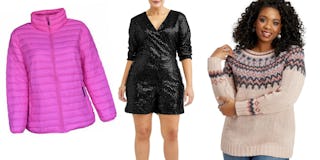 Walmart.com
So much of plus size fashion is way more frump than fashion. Why people think fat women want giant sequined kittens on their tees, or jeans that don't fit round bodies, or dresses without shoulders, I'll never know. But there is hope, ladies. Take a look at these fab styles!
Trust us when we tell you that you NEED these Signature Women's Lounge Jogger by Levi Strauss & Co. pants that look enough like jeans to pass in the pick-up line — but are super stretchy because cookies are a thing that happens this time of year. Goes up to size 3X.
This Cross Over Tulip Hoodie is so cute and soft, and the tulip-hem is flattering and offers a bit more give at the hips than a standard hoodie, which literally everyone needs during the holidays. Goes up to 4X.
Add some boots, leggings, and this Long Sleeves Solid Tunic Top is cute AF for running errands or even a more casual day at work. It's super soft and flowy, too! It only goes to 3X but is designed to be loose so there's some flexibility in sizing.
When you never know how cold it's going to be because the weather is broken, this Packable Down Jacket is perfect because it crushes down to a tiny bag! Plus bright pink which is FAB, and it goes all the way to 6X!
Got a fancy party? Then you need this Long Sleeve Geo Sequin Romper. Don't shy away from rompers — they actually look GREAT on plus size babes. That's why I grabbed this and let me just say I look FANTASTIC. Goes to size 26.
If you prefer something a bit less flashy, you need a little black dress. Grab this adorable little Sheath Dress With Pleated Bell Sleeves — just watch those sleeves when you reach for the dip at the holiday party! Ask me how I know. Goes all the way to size 34.
If you need a cozy sweater, get you one of these lovely Soft Pink Fairisle Sweaters. I adore the colors and the fit is flattering. Plus it's beautifully soft. Until I get to visit Fair Isle in Scotland, I'll hold on to this. Goes to 3X.
If you don't already own a bunch of fit & flare dresses, why the hell not? They flatter your waist and open up around your hips and look FANTASTIC. I just got this Fit & Flare Glitter Knit Dress for the holidays, and I love it! Ignore that skinny model, this dress looks great on curves. Goes to size 28.
Do you swoon when you hear "cashmere?" ME TOO. Check out these super cute Sutton Studio Cashmere Tapered Leg Dress Pants! They are great for work or church or any place you need a few steps up from jeans. Only goes to size 24.
Shiny black metallic leggings? YES PLEASE! These Metallic Leggings are sharp and sleek, and thick enough that you won't freeze to death while wearing them. These look fab with black heels and a moto jacket. Go to 3X.
No, YOU bought this Long Hoodie Coat because it kind of looks like the one the new Doctor Who (A WOMAN, Y'ALL) wears. And I don't blame you one bit, because who doesn't love a knee length hoodie? Goes to 5X.
Looking for a Christmas sweater that isn't ugly? I love this Mosunx Merry Christmas Print Irregular Hem Long Sleeve Top. If you didn't already know that v-point shirts are hella flattering on big bodies, well, YOU DO NOW. Goes to 5X.
Hitting the gym? Screw pricey brands who think plus size women don't work out. We DO. I love these cute Active Colorblocked Performance Capri Leggings — and with options up to 5X! Pair it with this banded tank.
So there you go! Go out and stock up so you can be fancy fresh this holiday season. I'm off to put on my disco romper because DAMN IT IS CUTE.
We are a participant in the Walmart.com Affiliate Program and may earn fees by linking to Walmart.com and affiliated sites.
This article was originally published on