These Incredible Athletes Prove Olympians Come In All Sizes
by Valerie Williams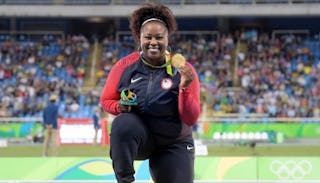 Image via Instagram
These Olympians remind us that athletes don't always look the same
The 2016 Olympics are almost over, and they've been pretty incredible. We've seen athletes of all shapes and sizes compete (and win) events, earning medals for their strength and skill. In this year's games, we've had a chance to see plus-size female athletes in particular proving that when it comes to Olympic glory, one size definitely doesn't fit all.
PlusModel recently highlighted female Olympians of size who dominated in this year's games. These women succeed because of their size in some sports, not in spite of it. Such is the case with the United State's Michelle Carter, who brought home the gold in shot put. Her victory was the first time a woman from the USA took top prize in the event.
She's also a makeup artist and made headlines last week talking about body positivity and how important it is to her that she feel good about herself during competition. "Should I wear my false lashes or take the time I want to take so I can feel good when I go out on the field? Because nobody else was really doing that. And I thought, No: I'm not going to change what I believe I should look like to fit anybody else's standards. I believe if you look your best, you're going to feel your best, you're going to do your best."
Um, hell yes. To all of that.
Other plus-size women kicking ass and inspiring us in this year's games include Angolan handball goal keeper Teresa Patricia Almeida.
"I'm a 'flagship' for fat people all over the world, and even if I have a different body shape from that of an athlete, I still get the results." Yes, she does. Of the Angolan team's win over Montengro, NBC Olympics says, "Almeida saved 41% of shots faced, a sublime performance in handball."
USA weight lifter Sarah Robles became the first woman from our country to win an Olympic medal in her sport since 2000, taking home the bronze. She also uses her platform to talk about her experiences being bullied and how she's overcome it.
These women are inspiring for their skills and strength, but they're also showing millions of people that athletic prowess comes in packages other than totally slim. They're showing children and teens and yes, adults, that there are so many ways to be fit. And so many sports to participate in where being thin doesn't really make a difference. As Robles told Reuters, "This means a lot, to be on the podium and give exposure to our sport at a time when it's already growing. It's good not just for me but for women of size, for women who want to get up off the couch and do something different."
These women are role models to us all, and prove that size is not a factor in whether you can be fit, athletic and healthy.