Plus Size Woman Wears Bikini In Times Square And Is Relentlessly Harassed
by Thea Glassman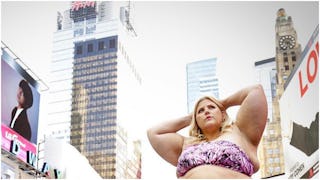 Image via Anna O'Brien/Instagram
The plus-sized fashion blogger says she was 'overwhelmed' by the graphic comments
Anna O'Brien, a plus-sized fashion and lifestyle blogger, conquered her fears last week when she posed in a bikini in Times Square. The photoshoot should have been a positive, inspiring, and important moment. Instead, she was forced to listen to awful, sexual comments about her body.
O'Brien took to Instagram to recount the whole disgusting series of events. As she stood on a bench, rocking the hell out of a bright purple bikini, men stopped to make a bunch of gross catcalls. Ironically, O'Brien noted, there were two nearly naked women covered in body paint nearby who were left completely alone.
"No one felt the need to yell or scream what they wanted to do to their bodies," she wrote. "But to me, a plus woman in a swimsuit, the things that were said were so graphic it made me sick to my stomach."
"What was so ironic to me was that to the right of me were two nearly nude women covered only with body paint and no one felt the need to yell or scream what they wanted to do to their bodies," O'Brien writes.
As if that wasn't bad enough, one of the men said he felt the comments were justified because "plus women don't know they're ****able." Excuse me while I vomit everywhere. This really, really shouldn't have to be said but no woman needs to be reassured by a strange man that she is fuckable. Ever.
"Let me be very clear here: a plus size woman's worth, or any one woman's worth for that matter, is not contingent on someone wanting to have sex with them," O'Brien said. "You don't exist to pleasure someone else… you exist to change the world."
Yup, yup, YUP.
Unfortunately, this isn't the first time that O'Brien has had to deal with this awful double standard. During a bikini photoshoot in Vegas last April, she was told to put some clothes on. In Vegas of all places.
The blogger had even gotten permission from the location ahead of time. "I asked to shoot swimsuits with a professional photographer and included my media kit," she told Yahoo Lifestyle. "I received a reply stating that I was welcome to shoot anywhere in the hotel except the casino floor, provided I had no large equipment."
Five minutes into the shoot, a guard came over and told her she needed to cover up. "Sure, thin girls in thongs and pasties are A OK but a plus girl in a full coverage suit, trying to take an epic editorial shot- now that's just too much," O'Brien wrote in an Instagram post.
These awful comments and ridiculous double standards aren't going to stop O'Brien. She's going to keep modeling and looking fierce as hell – no matter how much pushback she gets.
"We're not hiding anymore," she concluded. "And we're going to wear whatever we want, wherever we want. Not just in Vegas. EVERYWHERE. Change is coming; the question is are you going to stand in the way or help us push through?"
This article was originally published on