This Company Is Giving Out Free Vibrators To People Who Are Single On Valentine's Day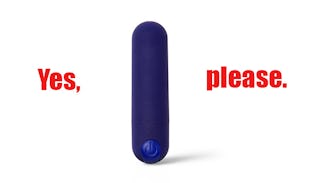 Image via Walmart
Newly single on Valentine's Day? PlusOne is giving out free vibrators to the brokenhearted
Some superheroes wear capes. But also, some superheroes are a vibrator company giving out free goodies to people who have gotten their heart broken before Valentine's Day. If this sounds like you, read on my friend. February 14th might suck a whole lot less this year.
Here's the whole sexy, self-loving deal. PlusOne is giving away free bullet vibrators to 250 people who have gone through a breakup just before Valentine's Day. All you have to do is fill out a very quick private form and – if you so choose – explain your breakup story. Just make sure to submit it before February 13th and then cross your fingers that you've got a fun surprise coming your way.
You can also send in a contest entry on behalf of a brokenhearted friend, because sometimes a box of chocolate just won't cut it.
So, why are these self-pleasure gurus gifting singles with V-Day goodies?
"Valentine's Day is a time for people to experience love and happiness, regardless of their relationship status," plusOne CEO, Jamie Leventhal, said, per Cosmopolitan. "However, we're aware that this holiday can feel like salt in a wound for those who are dealing with a recent breakup."
The company even created a list of fun ways to spend the holiday, whether or not you have a significant other. If you're riding solo, plusOne suggested planning a fun night all to yourself. "This is for those who are their own Valentines this year," they wrote. "Devote the night to some self-love. Put on some comfy pajamas, watch your favorite movie, and spend some time with your favorite vibrator."
If you're feeling a little bummed about spending all evening rewatching When Harry Met Sally for the millionth time, don't worry. You're far from alone. According to plusOne, 38 percent of Americans will be single on Valentine's Day this year. So, that's a whole chunk of people hanging with Norah Ephron and wearing fleece pajamas.
Also, you can head to Walmart's website and pick up your own bullet if you don't end up being one of the 250 people selected. It's waterproof, pocket sized, has ten different vibration settings, and comes with a USB charging cable. Happy Valentine's Day, indeed.
The company also offers a Dual Vibrating Massager, which is very soft, flexible, and comes with two vibrating tips.
Annnnd a personal massager to work out stress in your neck…and, erm, other places.
And if you're single but still, ahem, ready to mingle, there's also this vibrating ring for couples stimulation.
Here's to a sexy Valentine's Day filled with vibrators, fleece pajamas, and, like, ten pounds of chocolate.
This article was originally published on