Police Fatally Shoot Black Security Guard Who Was Detaining An Active Shooter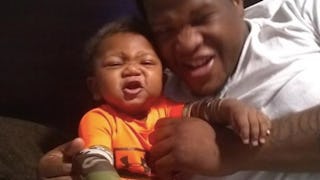 Image via GoFundMe
Jemel Roberson was a Good Guy with a Gun, but he was shot by police in what may be another case of racial profiling
A black security guard, wearing a uniform and hat, was fatally shot by police this weekend outside of Chicago as he was subduing the assailant of a shooting at the bar and grill where he was working. Although details of the case are still emerging, this may be the latest instance of a black man killed by law enforcement due to racial profiling.
According to NPR, a shooter opened fire in Manny's Blue Bar in Robbins, Illinois, when he was subdued by 26-year-old Jemel Roberson, a licensed security guard carrying a legal firearm. Roberson had the man pinned to the ground, with the gun pointed in his back, and was waiting for police assistance when neighboring Midlothian Police arrived. A witness, Adam Harris told local news affiliate WGN9 that one of the officers shot Roberson when they arrived.
"Everybody was screaming out, 'Security!' He was a security guard," Harris said. "And they still did their job, and saw a black man with a gun, and basically killed him."
Roberson was rushed to the hospital, where he was pronounced dead shortly after his arrival. Four other people were treated for non-life-threatening gunshot wounds from the shooting, including the original shooter himself.
The Cook County Sheriff's Office, the State Police Public Integrity Task Force, and the Robbins Police Department are investigating the shooting. Meanwhile, Roberson's family has filed a wrongful death lawsuit against the officer who shot and killed him as well as the police department.
Family and friends held a vigil for Roberson on Monday night.
Roberson was a graduate of Lane Tech High School in Chicago and once had dreams of being a police officer himself. He loved to play basketball and the organ, which he did for several local churches.
"Every artist he's ever played for, every musician he's ever sat beside, we're all just broken because we have no answers," the Rev. Patricia Hill from Purposed Church told WGN9. "He was getting ready to train and do all that stuff, so the very people he wanted to be family with, took his life."
He also had a nine-month-old son.
"This was going to be my baby's first Christmas with his dad and now he's going to miss out on everything," Avontea Boose, the child's mother, told The Associated Press.
Another local news station reported that Roberson was going to play the organ at New Spiritual Light Baptist Church on the day he was shot and killed.
"How in the world does the security guard get shot by the police?" the pastor, Walter Turner said. "A young man that was literally just doing his job, and now he's gone."
A GoFundMe page has been set up in Roberson's memory, to help with funeral costs for his son.