Police Officer Tells Black Middle Schoolers That When They Turn 18, 'You're Mine'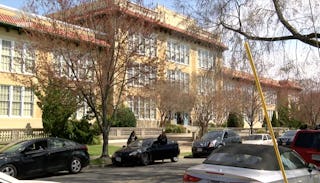 Image via NBC News
The Richmond officer is under internal investigation after the video of his verbal harassment of black students surfaced online
The Richmond Police Department is investigating one of its white officers after a cell phone video surfaced that appears to show him shouting at a group of black middle school students. The video shows an officer driving by several young teens in his cruiser, yelling, "Wait until your asses turn 18, then you're mine."
The video was captured by 13-year-old Cameron Hilliard, who is an eighth grader at Albert Hill Middle School. She says that on Tuesday, March 28, she and her friends were outside when someone said "F— the police" as the officer drove by. He responded by threatening the kids, with Hilliard capturing the last part of the interaction on film.
Tenesha Calloway, the mother of one of the other students involved in the interaction, shared the video on Facebook.
Hilliard's mom, Keisha Curry, shared her thoughts, and her daughter's story of the incident, in a YouTube video.
"I brushed it off and swept it under the rug, until I started hearing the frustrations of people and how much it bothered Cameron that day and the day after," Curry said.
"I admit I excused his behavior… [But then] I thought about how as a parent I've been pushing Cameron to be more respectful," she continued.
"The Department takes these concerns very seriously," the spokesman said in a statement. "The officer in the video is currently being investigated by the Internal Affairs Division."
However, they police wouldn't identify the officer, except to say that he is white, and it is unclear if the man has been suspended from duty or suspended from pay.
The local police union, the Richmond Coalition of Police, haven't released a comment or statement.
Curry says in the video that at first she didn't think much of the video, since she grew up in an environment where police often acted in a similar matter. But the more she thought about it, the more she understood it was wrong, and that she and her daughter needed to speak up.
"I don't feel he needs to lose his job," Curry told NBC News. "He just shouldn't be patrolling the streets."
Curry also said that she wants to "unite both sides" through an open discussion that includes parents, students, law enforcement, and state officials. She also said that she's willing to meet with the officer, though she still thinks the incident requires investigation – and that the officer likely needs to be reprimanded for his actions.
Richmond Mayor Levar Stoney said the type of behavior exhibited by the officer in the video "will not be tolerated by any employee of the City of Richmond."
"..I trust that the Richmond Police Department will conduct a quick and thorough investigation and respond accordingly," Stoney said in an official statement. "This behavior is unacceptable. It reinforces stereotypes of our communities that are hurtful and damages the relationship between our police department and the citizens they are charged to serve."
This is far, far, far from the first troubling incident we've seen between law enforcement and black children. Here's to hoping for some justice in this case.