10 Pop Culture Costumes You Can Buy On Amazon Now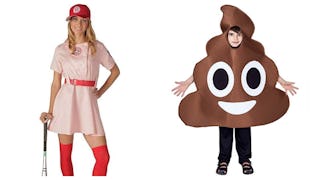 Image via Amazon
Leave it to pop culture to help you come up with the best Halloween costume yet
Halloween is the one day a year you can feel absolutely, 100% free to be literally anyone who isn't you. And what could be a greater way to embrace this holiday than by donning a pop culture costume? Whether you're all about the trendiest trends of the year or you're more of a deep cut pop culture reference kind of person, Amazon has plenty of options to satisfy your costume cravings.
Kids and adults alike can represent today's tech vernacular by literally wearing everyone's favorite emoji (don't lie, you know it's the best one). Your kids will find it hysterical they can literally be poop, and if you're of age you can go ahead and pair up with the cry-laugh emoji for a match made in couples' costume heaven.
Sold in both kids and adults sizes, this is the perfect costume option for anyone who loves Fortnite. And honestly, who doesn't love Fortnite? It's the most popular video game of the year, hands-down. So much so parents are even highering Fortnite tutors for their kids to master the game — so why not save some money and hire this costume instead?
The best thing about Deadpool is that it's not your average, run-of-the-mill, over-the-top superhero movie. So why not be as cool and unique (and hilarious, obviously) as Merc With A Mouth and suit up? Ryan Reynolds, Shmyan Shmeynolds.
Leggo your Eggo and put this amazing costume in your Amazon cart immediately. Stranger Things may be entering its third season, but it's one of the best love letters to popular culture in the history of, well, all of popular culture. Look, Millie Bobby Brown wants you to have this costume. She's using her telekinetic powers to make you buy it. BYOEggos.
Plastic is fantastic and so is this damn costume. Who doesn't want to be Barbie for a night? Heck, you don't even need a Ken but if you want to grab a man and a Hawaiian shirt and go to town, you do you. All that's missing are a pair of L.A. Gears, a Malibu beach house, and you're ready to go.
If you haven't dreamed and wished and pleaded with the universe to turn you into from a Marla Hooch into a Dottie Hinson/Geena Davis at any given point in your life, who even are you? Now you can get a little "dirt in the skirt" the way you've always secretly wanted and hit a home run this Halloween.
[Also: it comes in kids' sizes. If every mother/daughter out there buys this, I think that's the official definition of a matriarchy.]
Bow down to Bette Midler's greatest role (Beaches is a close second) and set your sights on being everyone's favorite Sanderson sister this year. From the wig to the dress, you'll surely "put a spell" on everyone around you (mostly because they'll be spellbindingly jealous they didn't think of it first).
AS IF there were a better homage to all things '90s than this. Psssh. If you're a millennial mom, chances are you were coming of age around the time this movie made it big. Which means you, too, fantasized about Cher Horowitz's closet and every last outfit in her entire wardrobe. Turn that dream into a reality and strut those thigh-highs all throughout the neighborhood. You're a total Betty. You can do this.
The best pop culture costumes are the ones that make fun of pop culture. If you've vacationed literally anywhere, you have run into many people who look just like this. And you know what? Good for them. All that's missing here are a couple of fanny packs and a Polaroid camera, and you're all set.
When it comes to being creative on Halloween, sometimes we can feel a bit stuck. That's why pop culture costumes are a win-win — watching everyone get so excited to recognize a character is so much fun, and being a famous or entertaining icon for a night is such a great time.
We are a participant in the Amazon Services LLC Associates Program and may earn fees by linking to Amazon.com and affiliated sites.
This article was originally published on