Chicken And Waffles Cereal Exists, What A Time To Be Alive
by Christina Marfice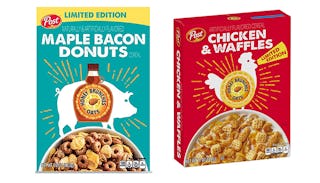 Image via Post
Post is celebrating National Cereal Day by turning chicken and waffles into a cereal
Look, chicken and waffles is a magical breakfast combination. The sweet-and-savory combo is exactly what the body needs in times of crisis, in times of extreme hunger, and in times of just wanting a super delicious breakfast. But chicken and waffles in cereal form? We're honestly not sure how to feel about that, and neither is the rest of the internet.
Post announced today that in celebration of National Cereal Day coming up next month, this is a real thing it's releasing into the world. The cereal is apparently going to be shaped like actual chicken and waffles, as in tiny waffle cereal pieces, and tiny chicken drumstick cereal pieces. It also contains no actual chicken. It's vegetarian friendly, artificial chicken-and-waffles flavored cereal. This is definitely one of the stranger cereal offerings to hit store shelves of late.
As a midwesterner with a deep, deep love for brunch, I have some reservations about this (get it? Reservations?). After a particularly raucous Sunday Funday, there's nothing I want more in this world than chicken and waffles. Exhibit A: My besties group chat this very week on Monday morning.
And while I wonder if chicken-and-waffles flavored cereal would cut it in the harsh light of a post-tequila day, I have to admit. The idea of having a shelf-stable chicken and waffles substitute waiting in my pantry that doesn't require a shower or pants to procure? I might be able to get behind it.
However, the internet has been speaking up about this, and opinions are definitely very mixed. While a few people also believe there's merit in simplifying brunch this way, not everyone sees the beauty. Some believe this cereal is a milk-drenched imposter of a brunch dish, and they're not about to be convinced otherwise.
This is far from the first time cereal has taken a turn into the bizarre. Kellogg's has blessed our breakfast bowls with both Pumpkin Spice Frosted Flakes, and Unicorn Froot Loops, both of which sound absolutely incredible, BTW. But those both belong solidly in the shallow end of the weird cereal pool. Because Kellogg's has also ruined easter by giving us Peeps cereal, and Post, the same cereal company that thinks chicken and waffles should be sugary bits that we drown in milk, once released Sour Patch Kids cereal. Some people just want to watch the world burn.
If you're interested in getting in on Post's National Cereal Day celebration, but not ready to go full pollo loco, Post is also releasing a slightly more palatable maple bacon donuts cereal.
Both cereals will be released as limited editions on National Cereal Day, March 7. And when we say limited editions, we mean limited editions; Walmart representatives told reporters at People that when they're sold out, they're gone. They'll be exclusively at Walmart, retailing for $2.98 per box.
If you do end up snagging one, please report back to the internet on how it tastes. For posterity.