Powerful Video Shows The Realities Of Abuse In Teen Relationships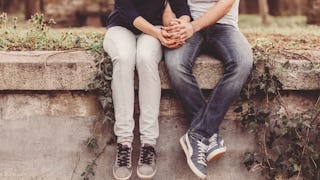 Martin Dimitrov / Getty
When you think about domestic violence, you may think of married couples, or longtime partners, or grownups, at least. But it turns out that teen relationships aren't immune from emotional and physical abuse, either.
I would venture to guess that many of us don't think about this all that often, but we should.
Being a teenager is hard enough. Trying to figure out who you are and where you belong. The brand-new romantic feelings. Talking to parents can be hard. It's easy to get in over your head and become isolated.
And abusers take advantage of all of these things.
According to a company called Day One,"1 in 3 teens report experiencing some kind of abuse in their romantic relationships." One. In. Three. That's the disturbing statistic that ends the powerful video that Day One just released in February which is Teen Dating Violence Awareness Month.
Day One has made it their mission, "To partner with youth to end dating abuse and domestic violence through community education, supportive services, legal advocacy and leadership development."
This is a cause we should all stand behind.
The video demonstrates all of the new, exciting feelings that teens might have navigating their first relationships. The song is happy and upbeat. It shows how abuse can creep up on teens and suddenly they don't know how it all happened and they're drowning.
Day One emphasizes getting teens to open to up the adults in their lives, building trust and healthy communication. Their services include workshops for kids and adults, giving legal advice, advocacy and counseling. Visit their website to learn more.
Let's keep an open line of communication with all of the teenagers in our lives so that they can learn about healthy relationships right from the beginning.
Watch it here: