'Powerpuff Girls' Is Getting A Live-Action Series And People Have BIG Feelings
by Cassandra Stone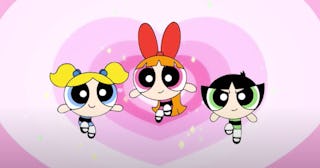 The Powerpuff Girls/Youtube
The new Powerpuff Girls will now be adults who resent that they lost their childhood to years of fighting crime
The Powerpuff Girls, the very popular animated show from Cartoon Network, is getting the live-action treatment in a new series on the CW. The show will focus on the Powerpuff Girls as "disillusioned twenty-somethings who resent having lost their childhood to crime-fighting," according to the CW. So basically the cute little badass cartoon girls everyone loved back in the day have now grown into existentially depressed adults like the rest of us. Cool!
What is actually pretty cool though is that the series will be run by Diablo Cody as executive producer, the talented woman behind Juno and Jennifer's Body. The crux of the show will be whether Blossom, Buttercup, and Bubbles decide to reunite and fight crime once more in the upcoming 2021-22 CW season.
Between 1998 and 2005, the Powerpuff Girls, created by Craig McCracken for Cartoon Network, centered around three superhero crimefighters created by Professor Utonium when he combined "sugar, spice, and everything nice mixed with the mysterious Chemical X."
Real ones know.
Once the news of the live-action series made its rounds on Twitter, fans immediately had BIG FEELINGS about it, because it was a very cute show and the new "gritty" spin on it isn't sitting well with fans' spirit.
Back in 2002, a Powerpuff Girls movie was released and a reboot of the series aired on Cartoon Network in 2016. While it's not clear whether the new live-action series will be similar to the animated show or the original movie, but it definitely should include villains like Him and Mojo Jojo.
One thing is clear, however, and it's that the original voice actresses for the beloved series won't be part of the new live-action reboot. The OG Powerpuff Girls also weren't part of the cartoon reboot back in 2016. What's really kind of messed up about that is that the show did retain Tom Kenny, who voiced the Mayor and was the narrator — but none of the girls were included.
Tara Strong, who voiced Bubbles in the series, was particularly upset about being cast out of the show.
Luckily she found some success on Cameo by sharing her voice-acting talents with fans of the original cartoon.
Production for the new Powerpuff Girls series is already underway, and is slated to likely premiere later this year. It'll be interesting to see just how much millennials who loved the show as kids will be able to identify with the girls as "disillusioned adults" now.
This article was originally published on