Mom's 'Back To School Photo' Reminds Us What Cancer Steals From Families — Everything
by Valerie Williams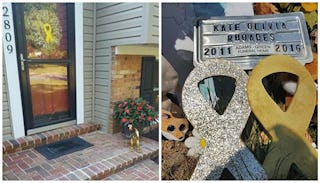 Image via Facebook
Mom's Facebook page "Prayers for Kate" brings attention to childhood cancer awareness
It's September, and that means back-to-school for millions of kids. Sadly, September is also Childhood Cancer Awareness Month and one mom's heartbreaking photo reminds us that because of cancer, there are some back-to-school pictures that will never exist.
Lindsay Rhoades lost her daughter Kate to acute lymphoblastic leukemia earlier this year. She was only four, so Rhoades was understandably emotional at the start of this school year knowing little Kate should have been posing for "first day of kindergarten" photos. She shared her thoughts in a post on the site she's dedicated to her daughter called, Prayers for Kate that includes photos of her child's grave, the school she would've attended and their empty front doorstep.
Rhoades writes, "The day after Labor Day means the unofficial start of fall and here, in our county, it marks the first day of school. Kate should be starting kindergarten today."
As Rhoades told ABC News, "There is a child missing," and that's why she decided to share photos of what her life means now that her daughter is gone. "I want people to see my reality. Kate was robbed of those milestones because of cancer. There's an entire elementary school of people who will never be blessed to know her."
The mom then lists out things she and her daughter are never going to experience together. "She should have been dropped off this morning with a new backpack full of supplies a cute new outfit on…and a bow in her hair. There should be a first day photo of her proudly smiling on our front porch. A classroom with a teacher excited to learn more about her. A desk with her name."
She ends the post saying, "Instead of dropping her off and worrying about her all day, I visited her at the cemetery and miss her beautiful face. This is childhood cancer. This is my life."
And it's all because childhood cancer took Kate's life before she had a chance to really live it. Her school experience was limited to just four months of preschool before she passed away. "She'll always be a honeybear, but she deserved to be dragon," says Rhoades, referring to what the school Kate attended called pre-K and kindergarten students.
Rhoades is speaking out because childhood cancer research is severely underfunded with only four percent of federal cancer funding being directed at cancers affecting children. That's why this month, it's so important to bring attention to the plight of families and kids suffering these horrible illnesses. The FDA has only approved two drugs for childhood cancer treatment and half of all chemotherapies used on kids are over 25 years old. That's simply unacceptable, and moms like Rhoades know it firsthand.
The mom is now dedicated to bringing attention to children like Kate saying, "I promised her I was going to raise hell. And if one child is saved because of my little girl, I know I'll hear her say to me, 'Mommy, I'm proud of you.'"
This article was originally published on