Teacher Shares Heartbreaking Reality Of Pre-K Kids Enduring Terrifying Lockdown
by Cassandra Stone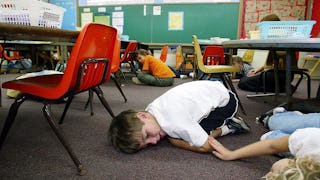 Image via Phil Mislinski/Getty Images
We live in a country where four-year-olds wonder if they're going to die in school
Earlier this week, the House of Representatives Judiciary Committee held a hearing about gun control. It was the first hearing of its kind in eight years. Eight. Years. The same day, one teacher wrote a Facebook post about finding herself in the middle of a terrifying, actual lockdown with pre-K kids. Basically, the time for gun control is now.
Leslie Gaar, a mother, teacher, and writer who lives in Austin, writes that she was with a classroom full of 20 pre-Kindergarten students when there was a lockdown. Not a drill, but an actual lockdown.
"A little over an hour ago I was huddled in a tiny bathroom with 20 prekindergarteners and 2 teachers during a school lockdown," she writes. She wrote she'll post a full account of her experience in the coming days, but wanted to share her concise, powerful thoughts in the meantime:
"I don't even have words yet to describe the terror, but I'll tell you one of the many things running through my head during the time we were in there: Any politician who votes against a gun control bill should be forced to sit in a bathroom with 20 4-year-olds, wondering if this is where they were all going to die."
Whew. That is heavy. A heaviness that no child, anywhere, let alone a classroom full of four-year-olds, should ever have to carry with them. That kind of trauma is unfathomable, unimaginable. And yet, like many parents in the comments section noted, it's just another day at school for most children. It's a heartbreaking, terrifying reality.
One mom shares what her kindergartner endured just last week, and it's gut-wrenching.
A retired dispatcher shared her own experience on the job in situations like these.
Another mom who lives in Parkland, Florida, describes how the landscape of school days have changed in the wake of the shooting at Stoneman Douglas. The fact that so many parents have to live this way, endure this primal fear for their children's lives, is despicable.
Several other parents and educators shared similar stories of the trauma their children endure each and every time a drill or actual lockdown takes place.
And the stories go on. For parents, children, and educators all across the country.
During the hearing on Capitol Hill this week, Democrats were arguing in favor of H.R. 8: the Bipartisan Background Checks Act of 2019. It's a newly introduced bill that seeks to require unlicensed firearms sellers to run would-be buyers through the same national background check system that licensed gun sellers currently use.
"Because background checks are not required for sales by unlicensed gun dealers, guns end up in the hands of dangerous people," one of the committee members, Representative Henry Johnson of Georgia, argued. "The failure of Congress to pass universal background check legislation has eroded our sense of safety on the streets, in our schools, and even in our places of worship."
Several citizens affected by gun violence — the Parkland shooting survivors, a widow of a man killed at the Capital Gazette last year — showed up to voice their support of the bill. Republicans, of course, argued the bill isn't necessary.
Whether H.R. 8 will be passed still remains to be seen. But one thing is perfectly clear — doing absolutely nothing about this country's enormous gun problem is completely and utterly unacceptable. Our children deserve better. They deserve to live without fear of being shot in school. They deserve to live. Period.
This article was originally published on