11 Pregnancy Subscription Boxes You Need To Know About
by Team Scary Mommy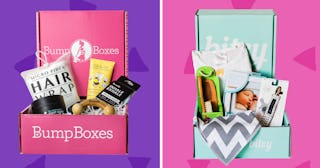 Bump Boxes and Bitsy
If you or someone you know is expecting a babe, there's no better way to celebrate than to sign up for one (or four) pregnancy subscription boxes. We all love getting treats in the mail, and pregnancy can be a special (and trying) time for many. These boxes are often filled with useful (yes, really), fun, trendy products that pregnant moms can use (self-care) now or save for later (baby gear).
RELATED: Get These Kids Jewelry Boxes Because You're Tired Of Looking For Lost Rings
Here are Scary Mommy's current favorites:
Bitsy boxes will send you a box with 8 items for your growing baby that you can enjoy together based on their age. You have the option to sign up for an entire year, or you can choose to only get one.
We love all that Noobie boxes has to offer. You can pick from receiving full-sized products for your baby (yes, please), a parent's box with gifts for you (how about both?), and you get a free one-time pregnancy gift box — you don't even need to sign up in order to get it. These boxes are carefully curated for quality and usability, and it shows.
These luxurious boxes are filled with precious gifts for your baby or toddler. They also offer special boxes for kids' birthday parties and baby showers. This makes gift-giving thoughtful and easy.
Each Bluum box comes with four items tailored to your child's age that will take you from pregnancy all the way to your child's first school year. New surprises each month to keep everyone busy. Win-win.
Bump boxes come full of goodies for moms, handpicked by other moms. You receive pampering gifts according to your due date, which hopefully prompts you to indulge in some well-deserved self-care. The bath bombs and foot soak are the best!
Mama Bird boxes come will fresh, modern gifts for new and expecting mothers. Each box contains 4-6 gifts, like healthy snacks and organic skincare for the new mommy. You'll be able to make use/enjoy every item.
Each month, Oh Baby will send over popular products to get you through your pregnancy. Each box is valued at over $100, and customized to your due date. The quality can't be beat.
Mom Time Delivered is the perfect way to remind yourself (or a loved one) to engage in some "me time" before baby arrives. Yes, please!
Heart Grown is a subscription box for parents who are going through the adoption process. Each box comes with items like jewelry, candles, and T-shirts to lovingly support you on your journey.
The Boobie box is for breastfeeding moms, created by a CLC and gives you the option to customize your box by answering a few optional questions at check out. You can count on fun surprises and treats each month, for you and your nursling.
11. The Stork Bag
This little gem of a gift lets you hand-pick, trimester-specific gifts for the mom-to-be.
So, whether you are looking for the perfect baby shower gift for your sister or BFF, or want to have something greet you in the mail box once a month while you are cooking your precious child, a gift box subscription won't steer you wrong.
Editors may receive samples and/or a share from purchases made via links on this page. All opinions are our own.
This article was originally published on