Pregnancy Has Paved My Road To Self-Acceptance
by M.E.Leigh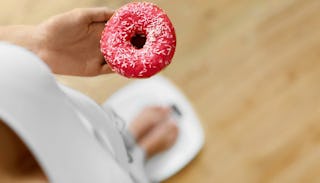 puhhha / iStock
Hi, I'm a recovering food addict. It took me years to accept it with everything that comes with it: food dependency, distorted body image, emotional instability, diets, and binges. I was so blind to what I looked like that I was that annoying girl pointing to other girls in the street and asking, "Am I bigger than this girl? What about this one?" And then on repeat, there was "Don't show me pictures of myself," "Frame only my face please," and "Oh, I look good in these jeans. Hold on, do I? No, I don't."
This has been my life since I can remember picking my own clothes. I could write a whole book about how I tried to use junk food to curb my craving for self-confidence but not today.
A year after my mom died, in March 2014, I reached an all-time high number on the scale and on the tag of my jeans (size, not price!). It drew a clear line. I could cross it and become obese forever, or I could decide right there and then to work on being healthy. It wasn't a Monday; it wasn't New Year's. It was a random Thursday in March.
I downloaded a home workout video program that day, threw out all my junk food, meal-planned as best I could, and long story short, I lost 30 pounds in a few months and dropped four jean sizes. I was exercising daily, educating myself about cooking and nutrition, and discovering what healthy felt like. It was a brand new me! It took me two years to tame my relationship with food. My mom would not have believed it. I still giggle when I make myself a salad or snack on fruit, imagining her looking at me like I am not her daughter.
Awesome, right? But guess what didn't change? How I saw myself. Of course I saw smaller jeans, legs a little thinner, chin somewhat less round, but I still couldn't look at myself in the mirror without sighing in disappointment at all my flaws. It was not good enough if I still l had no idea about where I'd rank myself on a scale from Kate Moss to Jennifer Hudson pre-Weight Watchers. So I tried to keep going, for the sake of being healthy, thinking I wanted to get pregnant sometime soon. Months later, I did. I got pregnant.
First there was a month of a fun cocktail of fertility hormones and stress, and that made me gain quite a bit of weight before even getting pregnant—great. Then the first trimester kicked in, and I was so hungry that it was a daily struggle to stick to my healthy routine. Eat all the carbs and all the sugar—more weight gain, yay me! I was panicking, trying to think of ways to manage my weight and keep wearing the same jeans. The self-hate was stronger than ever, but I also needed to think about what was best for my baby to grow properly. I was trying to convince myself that my pregnancy weight gain was no biggie. I could lose it all again later after all. It was an endless battle in my head.
Then I learned I was expecting a daughter. Having always been a tomboy and counting on one hand the number of girly pairs of shoes and dresses I owned, I was hoping for a boy. It would have been too easy, and again, I could picture my mom chuckling at the turn of events. Did you do this to me Mom? Is that the lesson I had to learn all along? Well, maybe. Something clicked instantly. I started thinking about how I wanted to raise my unborn daughter, how I wanted her to avoid all the mental torture, the endless twists and turns I went through about my body, my looks, my perception of myself. I know I would have to show confidence to inspire her to love herself. I was already looking at myself differently. I was smiling at my reflection and started having moments of genuine "Hey you! Looking good today!"
I inspected my eating patterns. I needed to stop using food as a reward to myself. Oh, I worked hard this week, I deserve a pizza (am I a friggin' dog?). I would need to maintain an overall active lifestyle, where exercise is something normal, enjoyable, and requiring little effort (a work in progress). But I would have to be subtle about it all and really handle it as a way of life, so that it would not be the excess of control that would cause my daughter similar issues with food and body image. How ironic if I turned her into a self-absorbed anorexic hottie? Balance, I had seven months left to learn balance.
Soon I noticed my perspective did a 360. The articles and online forum posts about pregnancy weight gain now seemed annoying and needy, even though I had been the weight gain check-master just a few weeks before. I was now looking at my size 8 clothes while piling on pregnancy pounds thinking, Meh, they will fit again at some point. Slowly, I started feeling on my love handles and fatty bits without being bothered, because well, I can't really do anything right now and who cares as long as baby is well and measuring on time.
I'm not saying I am cured, that I love myself unconditionally and don't need therapy anymore, but I have evolved in a way I didn't expect. This little lady is not here yet, and she is already changing me for the better. For the first time, I can say to myself: I do. I do take myself as I am. I know what I am capable of doing to be and stay healthy. So for my daughter's sake, that is what I will keep doing. Flaws and all, I'm going to keep looking in the mirror and smiling at myself.
This article was originally published on