The 9 Best Hospital Bags For Moms
We only recommend products we love and that we think you will, too. We may receive a portion of sales from products purchased from this article, which was written by our Commerce team.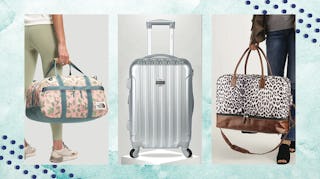 Okay, you've got a birth plan, a baby name, and the carseat is installed — but a good hospital bag is going to make your baby's arrival smoother, too. As you enter your third trimester, you'll want to get it ready for go time. The best hospital bags are roomy enough to hold everything you need with pockets to keep everything organized and accessible. Because you'll want plenty of space to pack what you need for the hospital (think: postpartum underwear and peri bottles), plus some creature comforts, too.
What To Pack In A Hospital Bag For Baby & Mom
In an interview with our sister site Fatherly, Brooke Patmor, certified birth and postpartum doula at BORN Collective, suggested that moms bring not only the essentials, like a few changes of clothes (for baby, too!), slippers (a must), and personal hygiene products, but also to bring along some of the less obvious items that will make the stay a bit more comfortable — snacks (because you will be hungry), essential oils, witch hazel (for cooling your vag), and a speaker with a playlist ready to go. Some brands even offer luxury pre-packed hospital bags, which are super convenient.
When it comes to actually packing, it's not as complicated as you might think. Honestly, aside from meeting your baby for the first time (who will not care what you're wearing or even if you forgot your toothbrush), nobody is going to judge you if you look like a hot mess. And, you might. So don't give a second thought to bringing your flat iron or favorite earrings. Leave those at home and focus on the essentials.
What Kind Of Bag Is Best For A Hospital Bag?
There are a few different bag styles and things to keep in mind when packing for the hospital as a mama-to-be. Here's what you need to know before you choose: Duffel bags, and their slightly more structured cousin the weekender bag, offer the convenience of being easy to stuff and go, and store down flat later. Some duffels have the added bonus of being machine-washable, so you can freshen them up after your hospital stay. On the other hand, suitcases are easy to maneuver and fairly roomy, although you might not get quite as many pockets/compartments. No matter which style you choose, springing for one with wheels will make trips down the hallways of the hospital easier.
And one more warning because it bears repeating — you will be hungry and hospital food isn't known to be great. Ready to find that bag for your snack stash? Scroll on down.