A Pet Owner Threw Her Cat A Baby Shower & The Internet Has Thoughts
"I know people will disagree but we had a blast!"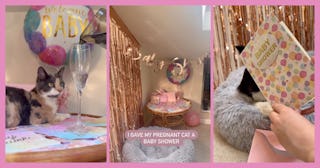 Instagram / @jess_the_superdog
When someone is expecting their first baby, friends and family typically get together to celebrate the exciting new journey and throw a memorable baby shower where the pregnant person is "showered" with love, support, and some gifts to get them started in their parenting journey.
While baby showers are pretty standard for humans, one woman went viral after throwing her pregnant cat an elaborate baby shower. Some people think it was adorable and other people think it was leaning toward crazy cat lady.
Instagram account @jess_the_superdog wanted to help her pregnant cat feel as special as possible, so she threw her an extravagant baby shower, and honestly, the results were so cute!
"POV: You give your pregnant cat a baby shower," the text on the video reads.
In the video, the pet owner showed off every detail of the shower she hosted for her cat, Cleo. In the clip, the room is decorated with adorable baby shower decor like banners and steamers and balloons that Cleo enjoys while licking some milk out of champagne glass.
The baby shower also included a guest, their dog Jess, a handwritten card, and some gifts for Cleo, which mom helped the pregnant cat open up.
"Did I give my cat a baby shower? Yes, yes I did..🤍," the owner wrote in the caption on Instagram.
"I know there will be judgement and I know people will disagree but we had a blast! Even if Cleo had no idea what was happening it's the memories made that counts, I'll always be able to look back on the time I gave my cat a baby shower 😆☺️♥️"
The video — which has over 600k views on social media — was met with mixed response. Some users thought the moment was precious while others thought the behavior was strange.
"Umm, this is ridiculously sweet! Congrats to the gorgeous girl about to become a mama! And congrats to you!! 👏👏👏" one user wrote.
"It's cute ..some people don't have kids and just love their pets ..let us be 😭" another said.
Another echoed, "People might judge, but this is so pure and cute thought of you. ✨"
Though the pet owner did receive an abundance of comments supporting her decision to throw her pregnant cat a shower, with any viral video, internet trolls also made their presence known.
"Stop humanising animals!" one user wrote.
Another said in a weird compliment/insult combo, "You have too much money and time on your hands. Aside from that, aww how cute."
Less than 24 hours ago, Cleo gave birth!
Cleo's owner documented the birth live on TikTok and also updated her Instagram Story regularly when new developments occurred during Cleo's labor.
"We have 5 beautiful babies! 1. black & white! 1. fully black! 1. ginger & white! And one fully ginger!" she wrote in text overlay on an Instagram Story. Congrats to the new mama!