John Legend Helps A Pregnant Chrissy Teigen Squeeze Into Leggings And We All Relate
by Megan Zander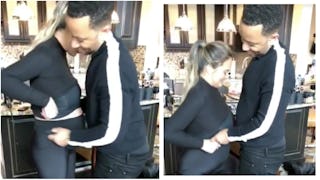 Image via Instagram/chrissyteigensnapchat
John Legend helps Chrissy Teigen into her pregnancy tights
Chrissy Teigen always keeps it real, and her latest Snapchat video is no exception. She and husband John Legend are expecting baby number two, and Teigen's been giving us updates about her pregnancy via social media. But while many of her posts showcase her glowing pregnancy skin and growing bump, her latest shows a challenge any pregnant woman knows all too well — the struggle of try to squeeze your bump into a pair of tight pants.
Lucky for Teigen, Legend was more than willing to lend a hand and save her from having to find another outfit.
In sickness, in health, and in spandex.
"All right!" says Legend as he watches his wife to make sure she's fully conquered the leggings. See the way he looks at her? He's genuinely pleased that they got those pants on. Yes, she's doing the damn hard work of carrying the baby but you can tell he's hands in for this pregnancy. You know he's going out for middle-of-the-night cookie craving runs — or at least sending his assistant.
Those pants took a few deep breathes and an extra pair of hands to get into, but without the behind-the-scenes peek, you'd never know it. The final look was stunning, per usual.
Teigen is easily one of the most relatable celeb moms online. She has zero time for mommyshamers and is willing to open up about her past struggles with PPD in hopes of helping other new moms. If we could add any celeb mom to our playgroup, she's definitely top of the list.
But while she's not afraid to turn to the internet for pregnancy advice like the rest of us, when we might feel like watermelons with limbs, she still looks glamorous AF. Take for example, this recent bump picture. Even though Teigen says it was taken during a girl's weekend, it easily looks like it could be in the pages of Vogue.
See also exhibit B.
Or here, when her simple black dress looked all elegant and not at all like the garbage bag black maternity dress I wore.
I mean, come on.
That's why it's so nice to see Teigen hitch up her belly-banded tights just like the rest of us. Note the deep squat she does once they're on to make sure they stay in place — a total pro preggo move for sure.
Big claps to Legend for being there for his bae in her time of fashion need. And a bigger thank you to Teigen, for showing us that even famous moms-to-be struggle to dress their bump.