Pregnant Dog Gets The Magical Maternity Photoshoot She Deserves
by Valerie Williams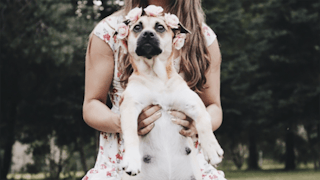 Image via Twitter
You only wish you looked this good pregnant
A woman arranged a whimsical photoshoot for her very deserving pregnant dog and Twitter is going bonkers for it. That's because no human maternity shoot can possibly come close to this level of cuteness.
RELATED: The Most Gorgeous (And Most Importantly, Comfortable) Maternity Photoshoot Dresses
According to Elite Daily, Fusee is a pug mix and best friend to her owner, Elsa. Not content to let the monumental occasion of Fusee's pregnancy go undocumented, she enlisted the help of photographer friend Clay Foshaug in capturing the pup's maternal glow in a precious series of photos. She shared the images on Twitter, where they immediately went viral.
Elsa writes, "My bestfriend is 8 weeks pregnant so we decided to do a maternity photo shoot." The photos have been retweeted an astounding 60,000 times because, hello. The adorableness is practically unbearable.
That "Soon 2 Be Mom" sign? We can't. It's all too much. Check out her wee flower crown and serene demeanor. She's got that momma look already.
Elsa is clearly one proud dog parent and Fusee is eating up the extra love and attention. She should enjoy it while it lasts, because once her pups arrive, it'll be all paws (and nipples — ouch, Fusee) on deck.
That. Face.
Speaking of pups, Elsa updated Twitter when Fusee gave birth to her babes only days after her photoshoot.
The reactions to the birth are mixed, with some Twitter users begging for puppy photos (that would be me) and others begging Elsa to have Fusee spayed. While it's probably not a bad idea considering the number of dogs without homes, we're just thrilled to hear that Fusee and her new fam are doing well.
Meanwhile, please, please, please post tons of puppy photos. The internet needs this.
This article was originally published on