Pregnant Mom Of 2 Told She's 'Too Young' To Get Her Tubes Tied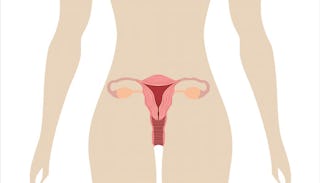 Image via Shutterstock
A mom is livid after doctors refused to let her get her tubes tied
Every woman should have the right to decide when she's done having kids, but for one Australian mom, the journey to get her tubes tied has been filled with nothing but roadblocks. Holly Maitland has two small children and another on the way, but she's allegedly been told by several doctors that she can't get her tubes tied because, at 22 years old, she's "too young" to make that choice.
In a post on Facebook, Maitland explained that all three of her children have been the result of contraception failures. "I'm currently 27 weeks pregnant with my 3rd contraception baby," she explained. "People have told me I wasn't taking it [contraception] and wanted to have 3 babies in 3 years. That is NOT the truth."
Earlier this month, Maitland told ABC News she asked her general practitioner to recommend a doctor who could perform a tubal ligation — a surgical procedure in which a woman's fallopian tubes are blocked or cut. The doctor was supportive and gave her several recommendations, but each one has refused to perform the procedure.
"The specialist doctor at my hospital… made several comments which reduced myself to tears and my husband having to hold me and tell me everything was OK," Maitland explained to ABC. "I may [later] regret the decision to have a tubal ligation but that's something I know may happen and I'm willing to go with it."
To make matters even worse, Maitland said her husband, Jon, tried to get a vasectomy and was allegedly also denied — because of his wife's age. Jon is 30 years old, but apparently being married to a younger woman prohibits him from making decisions about his own body, as well.
Maitland is understandably appalled at the way she's been treated and has since started a petition to her prime minister, Malcolm Turnbull, asking him to protect women's rights to get their tubes tied at any stage of adulthood. Her petition, combined with her Facebook post, has generated tons of publicity, and even got the attention of the head obstetrician at Cairns and Hinterland Hospital and Health Service in Queensland, who is currently reviewing her case.
In a statement to ABC, a hospital spokesperson confirmed that Maitland would be meeting with their senior obstetrician, but cautioned, "Tubal ligation is considered to be a permanent procedure… It is very unusual to conduct a tubal ligation on a 22-year-old as there is significant evidence through many studies that there is an extremely high likelihood the decision will be regretted in the future."
[shareable_quote]"Maitland's case highlights an even more important issue in women's health: too often, we're not trusted to make decisions about our own bodies."[/shareable_quote]
While there is potential for regret when it comes to sterilization — a 2010 study by the CDC showed that up to 26 percent of women eventually regret undergoing the procedure — Maitland's case highlights an even more important issue in women's health: too often, we're not trusted to make decisions about our own bodies.
At age 27, my own mother was denied a tubal ligation for the same reason as Maitland. She had three children, including a set of newborn twins, but doctors told her she'd regret her choice one day and to come back after she turned 30. In discussing Maitland's case in the Scary Mommy offices, another writer said her mom was also denied a tubal ligation at age 27, and it resulted in a surprise little brother. One woman in the comments on Maitland's Facebook post even wrote, "I was told the same thing. I wasn't allowed [to get] my tubes tied till I was 30 and needed consent from [my husband] Joe."
Health professionals may fear the potential for patient regret, but their reservations too often play out in a way that infantilizes women and treats us as though we're incapable of making decisions about our own reproductive futures. We shouldn't be beholden to our healthcare providers or our spouses when it comes to deciding what's best for our own bodies. Not every mother wants more kids, and some women don't want any children at all. As long as we're healthy and fully understand the consequences of our choices, we should be allowed to make those decisions for ourselves.
This article was originally published on