Trump Hospitalized After Testing Positive For COVID-19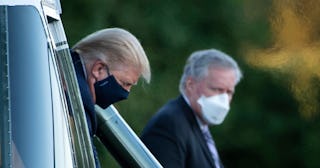 BRENDAN SMIALOWSKI / Getty
Trump also took to Twitter to post an 18-second video thanking 'everybody for the tremendous support'
Less than 24 hours after he and First Lady Melania Trump tested positive for COVID-19, President Donald Trump was transported to Walter Reed National Military Medical Center in Maryland on Friday evening. According to both The Washington Post and NBC News, Trump has a low-grade fever, nasal congestion, and a cough, among other symptoms. And according to a White House spokesperson, Trump will stay at Walter Reed "for the next few days."
"Out of an abundance of caution, and at the recommendation of his physician and medical experts, the President will be working from the presidential offices at Walter Reed for the next few days," press secretary Kayleigh McEnany said. "President Trump appreciates the outpouring of support for both he and the First Lady."
According to a source, CNN reports, the President's condition is worse than Melania's, who earlier today tweeted that she has "mild symptoms but overall feeling good" and that she's "looking forward to a speedy recovery."
Trump also took to twitter to "thank everybody for the tremendous support" via an 18-second video.
"I'm going to Walter Reed Hospital. I think I'm doing very well. We're going to make sure that things work out. The first lady is doing very well. So thank you very much, I appreciate it. I will never forget it. Thank you."
According to a letter written by the Physician to the President Sean Conley, prior to Trump's departure to the hospital, Trump received a single 8 gram dose of Regeneron's polyclonal antibody cocktail as a precautionary measure following PCR-confirmation of the President's diagnosis. "He completed the infusion without incident," Conley writes. "In addition to the polyclonal antibodies, the President has been taking zinc, vitamin D, famotidine, melatonin, and a daily aspirin."
"As of this afternoon, the President remains fatigued but in good spirits," the letter states. "He's being evaluated by a team of experts, and together we'll be making recommendations to the President and First Lady in regards to next best steps."
As for Melania, she "remains well" with "only a mild cough and headache, and the remainder of the First family are well and tested negative" for COVID-19 today.
Trump's diagnosis and trip to the hospital follows months of him downplaying the COVID-19 pandemic and, more recently, mocking Vice President Joe Biden for always wearing a mask. As of today, more than 208,000 Americans have died from the respiratory illness and more than 7.3 million have tested positive for it, according to Johns Hopkins University & Medicine.
Information about COVID-19 is rapidly changing, and Scary Mommy is committed to providing the most recent data in our coverage. With news being updated so frequently, some of the information in this story may have changed after publication. For this reason, we are encouraging readers to use online resources from local public health departments, the Centers for Disease Control, and the World Health Organization to remain as informed as possible.
This article was originally published on