Trump Tests Positive For Coronavirus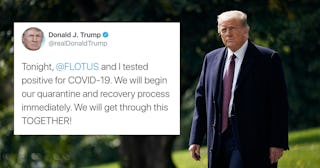 Drew Angerer/Getty
President Trump took to Twitter last night to share the news that he and Melania both have COVID-19
After spending months downplaying the COVID-19 pandemic and more recently, mocking Vice President Joe Biden for always wearing a mask, President Donald Trump has announced he's tested positive for the virus along with First Lady Melania Trump. As of today, over 207,000 Americans have died from the respiratory illness and over 7.2 million have tested positive for it.
Trump shared the health update on Twitter early this morning. "Tonight, @FLOTUS and I tested positive for COVID-19. We will begin our quarantine and recovery process immediately. We will get through this TOGETHER!"
News broke yesterday that Trump aide Hope Hicks had tested positive after traveling on Air Force One for a rally in Minnesota with the president. The first lady also took to Twitter to share that she and the president were "feeling good" despite having the virus.
At that rally, Trump told the audience "the end of the pandemic is in sight," but now that he's tested positive, his campaign has been thrown into uncertainty with barely a month to go before Election Day. According to The New York Times, the president's physician says he can carry out his duties "without disruption" from the Executive Mansion.
The Times reports that the White House didn't say how long the president would be quarantined but his plans for a campaign rally today in Florida have been cancelled and the only event on his public schedule is a call "on COVID-19 support to vulnerable seniors." Trump is scheduled to appear at rallies in Wisconsin tomorrow and Arizona on Monday, but they will most certainly be cancelled as well. The next debate against Vice President Biden is October 15th in Miami, and there is no word yet on whether it will be cancelled or postponed.
The Times reports that Trump's aides are in shock and processing the news as they try to decide whether the president should address the nation on his diagnosis. There is no news on whether the virus has spread through the administration beyond Hicks and the first couple though it is important to note that most White House officials don't wear masks around Trump because he doesn't like them.
According to The Times, Trump has had "what one person described as cold-like symptoms." He attended a fundraiser at his club in Bedminster last night and an attendee estimates he came into contact with around 100 people. That attendee notes that he "seemed lethargic."
"The president and first lady are both well at this time, and they plan to remain at home within the White House during their convalescence," Dr. Sean P. Conley, the White House physician, said in a statement. "Rest assured I expect the president to continue carrying out his duties without disruption while recovering, and I will keep you updated on any future developments."
At Tuesday night's debate, Trump commented on Biden's mask-wearing amid the pandemic. "I don't wear masks like him," Trump said. "Every time you see him, he's got a mask. He could be speaking 200 feet away from me, and he shows up with the biggest mask I've ever seen."
According to The Times, people at the White House thought the president's voice sounded "raspy" yesterday. While the public has very few details about Trump's overall health, it is known that he is in the most vulnerable age range when it comes to dying from the virus. According to the CDC, eight out of every 10 deaths from COVID-19 have been in people over age 65. Trump is 74.
This article was originally published on