Second Presidential Debate Officially Canceled After Trump's Tantrum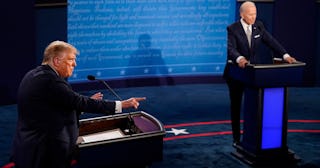 Morry Gash-Pool/Getty Images
The second presidential debate has officially been canceled
As we all know, President Trump has COVID-19. Because of the nature of the virus and how contagious it is, the Commission on Presidential Debates decided that the safest way to hold the second debate — which was slated for Thursday, October 15, 2020 — would be to do it virtually. When Trump heard that the debate would be virtual, he threw a fit and refused to attend. He just like, didn't want to do it. Although Joe Biden was onboard with a Zoom debate, the Commission on Presidential Debates decided on Friday, October 9, 2020, to go ahead and officially cancel the second debate, and honestly, I blame Trump.
NBC News reports that Trump and Biden will debate for a second, and last, time on October 22 and that's it. Two debates are all we're getting. When Trump first learned that the Commission had initially switched the second debate to a virtual one, he point-blank refused to attend, and honestly, I didn't know you could do that.
"I heard that the commission a little while ago changed the debate style, and that's not acceptable to us," Trump said in a phone interview with FOX, per CBS News. "I'm not going to waste my time on a virtual debate. That's not what debating is all about. You sit behind a computer and do a debate, it's ridiculous. And then they cut you off whenever they want."
And there's the kicker: "They cut you off whenever they want." As we all saw during the first debate, Trump refused to exhibit ANY decorum and constantly talked over Biden and went over his own allotted time. It was a shit-show. The commission decided to go virtual for the second debate to protect everyone from contracting COVID-19 from our idiot president and instead of Trump understanding why those safety precautions are necessary, he's like, "Wah…I don't want to debate in a format where they can turn my mic off wahhhh."
Once Trump announced that he would not participate in the virtual debate, he stated that he would host a rally instead. Yes, really. Because one COVID-19 superspreader event is, apparently, not enough for the president. Interestingly, the second debate was supposed to be a town hall-style event, meaning audience members would be submitting questions to Trump and Biden — a debate-style that one of Biden's aides said would only magnify Trump's bullish behavior next to Biden's more empathetic approach.
"It's shameful that Donald Trump ducked the only debate in which the voters get to ask the questions — but it's no surprise," Biden campaign aide Andrew Bates said (Via The New York Times). Everyone knows that Donald Trump likes to bully reporters, but obviously he doesn't have the guts to answer for his record to voters at the same time as Vice President Biden."
After Trump made it clear that he would not attend a second debate if it were virtual, Biden decided to host his own televised town hall event on ABC instead. Although Trump first said he would hold a rally in lieu of a debate, he is apparently now trying to get NBC to film his own competing town hall event too, but Variety reports that NBC will only do it if Trump tests negative for COVID-19, so we'll see how that plays out.
"It is now apparent there will be no debate on October 15, and the CPD will turn its attention to preparations for the final presidential debate scheduled for October 22," the Commission on Presidential Debates announced in a statement on Friday (via NBC News).
The final debate will be similar in format to the first debate and is set to be moderated by Kristen Welker of NBC News. Let's hope it's not the disaster that the first one was, oh who am I kidding, it's gonna be a wreck.