Prince Harry And Ed Sheeran Joke About Being 'Gingers' For World Mental Health Day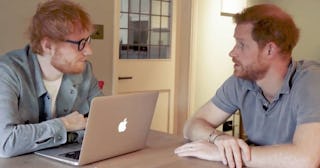 Sussex Royal/Instagram
Prince Harry and Ed Sheeran are the iconic "ginger" duo we need this World Mental Health Day
Prince Harry and Ed Sheeran have something pretty major in common, and no, we're not talking about the obvious: How they both have fiery ginger hair. They do mention that, but what they're actually collaborating on is their mutual passion for mental health awareness. For World Mental Health Day, they created a video that will have you laughing, but also inspire action to create a world that's more empathetic toward mental health.
The video was shared to the Sussex Royal Instagram account, and it shows Sheeran getting ready for his big meeting with Harry by getting a haircut and a beard trim. When he arrives (at Princess Eugenie's house, where the video was filmed), he and Harry sit down to discuss their strategy for collaborating on something they share a real passion for.
"I've been trying to write a song about this to get it out to more people," Sheeran says. "People just don't understand what it's like for people like us — with the jokes and the snide comments. I just feel like it's time we stood up and said, 'We are ginger, and we are going to fight.'"
That's when Harry steps in.
"Um, okay. This is slightly awkward. There may have been a miscommunication," he says. "This is about World Mental Health Day?"
Cut to Sheeran's laptop screen, where he quickly deletes the song title he had written there ("Gingers Unite"). If you look closely at the screen, you can also see the agenda he wrote for his meeting with the royal: "HRH Prince Harry and the king of ging Ed Sheeran get together to change the perception of people with Moroccan sunset hair."
As a fellow ginger, I feel this and pretty much can't stop laughing. But while the video is cute and very tongue-in-cheek, it also has an important message to share.
"Guys, this World Mental Health Day, reach out, make sure that your friends, strangers, look out for anybody that might be suffering in silence," Harry tells the camera, with Sheeran nodding next to him on the couch. "We're all in this together, right?"
Yes, we are. According to the National Alliance on Mental Illness, one in five adults experiences mental illness each year, and for one in 25 adults, that mental illness is serious. Suicide is now the second leading cause of death for people aged 10-34. The only way for us to combat this is to all be in it together, just like Harry said. On this World Mental Health Day, reach out to someone. You never know who in your life might need a helping hand.
This article was originally published on