The Arrival Of Meghan And Harry's Baby Won't Be Like Past Royal Births
by Valerie Williams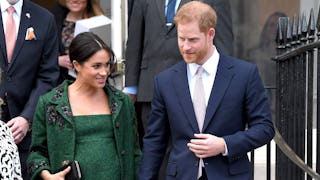 Image via Karwai Tang/WireImage
The Duke and Duchess of Sussex are planning things a little differently for the birth of their first child
The Palace has released a statement on the upcoming birth of Prince Harry and wife Meghan Markle's first child. The news? That there's kind of… no news. That is, the couple haven't revealed any birth plans to the public as other royals have done in the past, including William and Kate. It's leaving royal watchers to assume that there will be no "viewing" of the new baby or Duchess Meghan in heels and perfectly blown out hair mere hours after giving birth. No huge photo opportunity or press waiting on the hospital steps for three days. Just a couple and their new baby, sharing the news when they feel it's right.
And TBH, we're very much here for it.
"Their Royal Highnesses have taken a personal decision to keep the plans around the arrival of their baby private. The Duke and Duchess look forward to sharing the exciting news with everyone once they have had an opportunity to celebrate privately as a new family," the statement from the Palace reads.
Sorry, everyone. That means there probably won't be a photo op like this where we all wait breathlessly for the new royal baby to emerge in the arms of their exhausted (and probably bleeding-into-a-pad) royal momma. Hours after giving birth and smiling for cameras. How badly do you think she wanted to scream and tell everyone to go the hell away in this moment? Meghan's probably taken many notes and decided, "nah."
But royal watchers are quick to point out that this actually shouldn't come as a huge surprise. The future offspring of Harry and Meghan will be, after all, seventh in line to the throne. There's really no reason the couple needs to "present" a future heir to the kingdom when it's unlikely they'll ever be called up from the bench anyway.
And yes, it's pretty certainly set in stone that there will be no huge presser going on outside the hospital as those plans were set far in advance for all three of William and Kate's children including little Louis, born just last year.
https://twitter.com/jetpack/status/1116268946175475712
All of that said, obviously, this isn't just any somewhat distant heir to the throne. The interest in Harry and Meghan is huge — they're bonafide celebrities, no question, and much loved by the public. That's what makes their determination to shield their baby from the spotlight in those first hours (or days…or weeks?) actually extremely admirable.
And real talk — the fact that Meghan probably doesn't have any desire to be trotted out less than half a day after giving birth so everyone can gawk at her child (and her, let's be honest) is so totally understandable. We've all always felt for Kate during those post-birth pressers — no way it's easy wearing a pad the size of a phone book while in heels, smiling away as the cameras flash.
Of course, some people are going to be pretty bummed to not be able to get wrapped up in royal baby excitement. As much as I fully support a mom having complete privacy after giving birth, I'm definitely among the throngs of people who can't wait to catch the first glimpse of Harry and Meghan's new little one.
But at the end of the day, it's this — all day long.
Seeing as their baby has virtually no "future heir" buzz surrounding him or her, there's simply no royal protocol that would dictate they display their baby to the public right after their arrival. It's nice to see Meghan and Harry doing things their own way — no matter how bummed the world will be to have to wait to see their teeny prince or princess.
This article was originally published on